Dit evenement is afgelopen.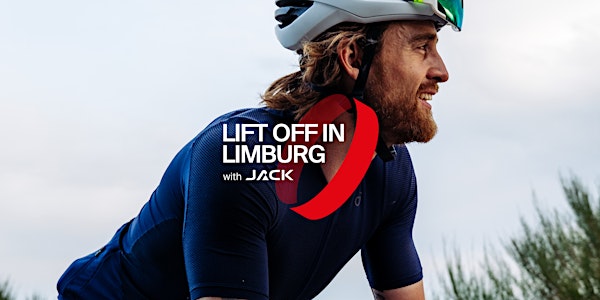 Lift off in Limburg with Jack Ultracyclist
LIFT OFF AND JOIN JACK ULTRA CYCLIST ON HIS SPACE ODYSSEY. GO WITH US ON A DAYTRIP TO LIMBURG AND RIDE AS MANY HEIGHT METERS AS POSSIBLE!
Waar en wanneer
Locatie
Camerig Camerig 6294 Vijlen Netherlands
Kaart en routebeschrijving
Beleid voor refunds
Neem contact op met de organisator om een restitutie aan te vragen.
Eventbrite-kosten zijn niet restitueerbaar.
Over dit evenement
Jack Ultra Cyclist is on a mission to climb 1.000.000 metres in one year and you can join and support him while he is raising €1.000.000 for three mental health charities.
On Saturday august 13th Jack will LIFT OFF IN LIMBURG and will try to climb as many meters as possible by repeating a 25 KM loop with 465 altitude meters as many times as possible.
Ride Out and BBB Cycling offer a very limited amount of 40 cyclist the chance to join Jack on this space odyssey and be part of this amazing challenge. We will take care of transport for you and your bike and to and from LIFT OFF Limburg and of course we will stop for some vlaai along the way.
We have 40 spots available on a first come first servie basis. Every week we will open up 10 spots on a first come first serve basis. To join you need ticket as quickly as possible!
During LIFT OFF LIMBURG we challenge you to gain the most altitude meters and enjoy riding in the Limburg hills.
Program
6:45 - Meet at Ride Out
7:30 - Bus leaves Ride Out to Vijlen
8:00 - Stop @ - P+R Westraven, Utrecht
10:00 - Arrival in Vijlen
10:30 - Coffee with Vlaai
11:15 - Start Ride
16:00 - End ride. Drinks + food @ Buitenlust
17:45 - Bus leaves to Amsterdam
20:30 - Arrival in Amsterdam
Costs
To cover the costs we ask everybody a contribution of €40 which will include all practicalities: transport for you and your bike, mechanical support, coffee, vlaai, the route and some snacks during your ride. At the end of the day we have the availability to enjoy a meal (at your own cost) at Restaurant Buitenlust, just before we leave back to Amsterdam.
Are you willing to donate more to Jack and his challenge? Then buy a 'Donate Ticket' on the ticket page and fill in the amount of money you want to donate. We promise you that we will donate the full amount to Jack! ;-)
About Jack
Jack Thompson is a professional Australian athlete who in recent years has set the standard for and explored the boundaries of Ultra Cycling. Hence, he goes by the name Jack UltraCyclist. Through his incredible cycling endeavours, and through numerous world records and world firsts, Jack has used his platform as a professional sportsperson to raise awareness for, and shine a light on those suffering with mental health. You'll find more on his Space Odyssey challenge on his website.