Dit evenement is afgelopen.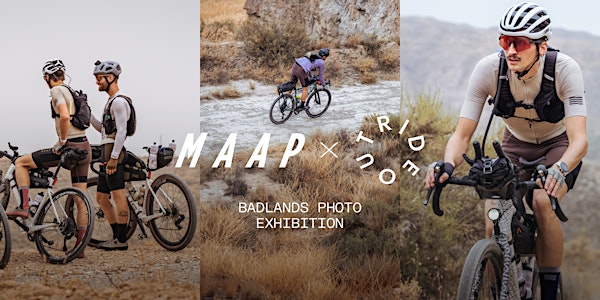 MAAP x Ride Out Badlands photo exhibition
Come celebrate the launch of MAAP in our store with a Badlands photo exhibition, beers and pizza!
Waar en wanneer
Locatie
Ride Out Amsterdam 22 Stadionplein 1076 CM Amsterdam Netherlands
Kaart en routebeschrijving
Over dit evenement
To celebrate the launch of MAAP we have something very special for you in store. We have asked Mike Vlietstra of the FOCUS Ride Beyond Crew to create a photo exhibition of this years Badlands ultra race. In addition we will showcase Fernwee's FOCUS Atlas still covered with dust and the unwashed jerseys directly from the race. We will serve beers and pizza, so all you have to do is show up and celebrate with us!
The evening
19:00 - 19:30 Walk in and grab a beer
19:30 - 20:00 Mike Vlietstra will share his story behind the exhibition
20:00 - 22:00 Browse MAAP kit, socialize and grab another beer
Join us for the social ride
On Saturday the 24th we will have another party which we will celebrate on a social ride together with MAAP. Join the rides here.
About MAAP
How they tell it in their own words: Cycling kit. Australia-made. World-renowned. We exist to propel cycling forward with Australian cycling apparel that was born in Melbourne but has travelled to destinations the planet over. Whether you're off road, or on the path less travelled, MAAP cycling kit performs when you take a turn off the ordinary and onto the unexpected.
---- Dutch copy ---
Om de lancering van MAAP te vieren hebben we iets heel speciaals voor jullie in petto. We hebben Mike Vlietstra van de FOCUS Ride Beyond Crew gevraagd een fototentoonstelling te maken van de Badlands ultra race van dit jaar. Daarnaast zullen we de nog met stof bedekte FOCUS Atlas van Fernwee en de ongewassen shirts van de race laten zien. We serveren bier en pizza, dus alles wat je hoeft te doen is komen opdagen en met ons meevieren!
De avond
1 9:00 - 19:30 Loop binnen en pak een biertje
1 9:30 - 20:00 Mike Vlietstra zal zijn verhaal achter de tentoonstelling delen
2 0:00 - 22:00 Blader door de MAAP kit, socialize en pak nog een biertje.
Doe mee aan de social ride
O p zaterdag de 24e is er nog een launchparty samen met MAAP tijdens een social ride. Geef je op voor de social rides.
Over MAAP
Hoe ze het vertellen in hun eigen woorden: Wielerkleding. Gemaakt in Australië. Wereldberoemd. Wij bestaan om het fietsen voort te stuwen met Australische fietskleding die in Melbourne is geboren maar naar bestemmingen over de hele wereld is gereisd. Of je nu off road fietst of op het minst bereisde pad, MAAP wielerkleding presteert wanneer je een afslag neemt van het gewone naar het onverwachte.