Dit evenement is afgelopen.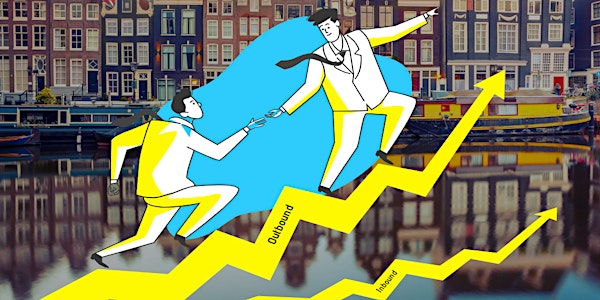 Making Outbound Sales work in SaaS Companies
Waar en wanneer
Locatie
Amsterdam City Center Amsterdam Netherlands
Kaart en routebeschrijving
Beleid voor refunds
Restituties tot 30 dagen voor evenement
Eventbrite-kosten zijn niet restitueerbaar.
Beschrijving
Introduction
Cold calling is dead, right? So why do all major global SaaS players still bother to do it and drive most of their revenue via Outbound sales?
Over the past years, outbound sales has become a science rather than a dirty job. Through millions of data points and collective intelligence, we can for the first time in history understand which approaches really do work and which ones don't. This course will lay out all of these best practices, and give you many insights to apply and drastically improve your results.
Outbound sales is not dirty, but a fine-tuned awareness creation tactic that puts relevance for the recipient at first place. In this course, we want to change the minds sales reps and managers to open up to the possibilities that outbound sales entails and show how to reap the fruits of fine-tuned outreaches.
Who is talking? Tom van Berkel (CCO at Easygenerator, ex-google & ex-salesforce) that grew his company to multiple million dollar recurring revenues by focussing on Outbound and Nils Brosch, (ex. CCO at Recruitee, Founder at 'SaaS Collective' and Commercial Consultant for SaaS companies).
What to expect:
The course will address fears and doubts head-on and deliver practical, take-home-and-implement knowledge for all attendees.
For whom:
SaaS sales rep that is charged with the project of making outbound work

SaaS Head of Sales that looks for the next layer of growth

Curriculum

From Inbound to Outbound
Why inbound is never enough

How inbound and outbound differ and where they overlap

How to leverage on inbound for outbound deals

The secret to the most optimal set up of your outbound team
Targeting: The Ideal Customer Profile
Why having a clear Ideal Customer Profile is so more important in outbound than in inbound

How to create a winning ICP


Quality vs. Quantity
The difference between quality and quantity outreach

When to reach out at mass, and when not to

Why you need a combination of both


Prospecting: The Outbound Message
How to write a subject line that every prospect wants to open your email

Understanding why personalization does not have to take a lot of time

How to really be creative in your messaging

Closing your email in a way prospects will actually respond
The Cadence: Continuous Follow Up
Get all the insights into what the best proven cadence is

The Do's and Don'ts in your follow up
Prospecting: The Outbound Call / smart call
Why cold calling still works

How to nail down the opening of your call

Understanding what best-in-class salespeople do to handle any objection

Should or should you not leave a voicemail?
Bonus: Management
What skills should you look for in your outbound hires

How should you set the right targets and compensation for your outbound sales team

How to balance career progression with stability of your outbound team