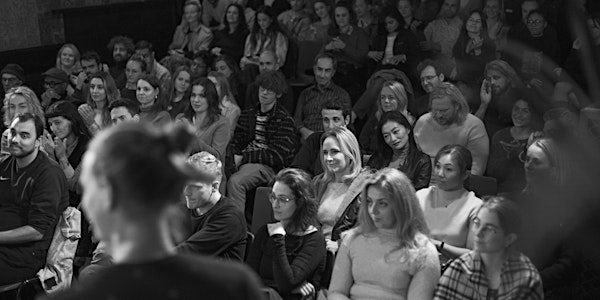 Meerdere data
MARCH: Shortcutz Amsterdam - Amsterdam Film Network and Screenings
Joins us every Tuesday to watch the coolest Short Films from the new Dutch film talent and meet the makers!! #FreeEvent
Datum en tijd
di. 7 mrt. 2023 20:00 - di. 28 mrt. 2023 22:30 CET
Locatie
Sociëteit De Kring 7-9 Kleine-Gartmanplantsoen 1017 RP Amsterdam Netherlands
Over dit evenement
Join us every Tuesday to watch the coolest Short Films from the new Dutch film talent and meet the makers!
Programme
We are back to the De Kring with our Weekly Sessionz!
How to Join?
COME HANG OUT WITH US AT SOCIËTEIT DE KRING
Our SESSIONZ are free but we have limited spots, so do not forget to claim your ticket. Check out www.shortcutzamsterdam.com/weekly-sessionz for more information about the sessionz' programme.
More About Shortcutz Weekly Sessions
Do you want to meet the people who work behind the scenes or dive into a film project? Join us every Tuesday at Sociëteit De Kring, on Leidseplein, 1st floor above the restaurant Palladium.
Every week, you can watch cool short films by up-and-coming directors and participate in a Q&A session after every screening with the filmmakers.
Our sessions are expat-friendly. Shortcutz aims to connect the city's international community with Dutch cinema. All movies have English subtitles, and Q&A sessions are also held in English.
Our events are free, with a suggested donation of € 2 to keep us going.
More About Shortcutz Amsterdam
Shortcutz Amsterdam is a platform for emerging Dutch film talents. Shortcutz's mission is to help new talent take a "shortcut" to National and International Audiences and the most exciting professionals in the industry.
How to find Societeit de Kring
You can find Societeit de Kring on the first floor above Restaurant Palladium on Leidseplein.
[If you have restaurant Palladium in front of you, you will find a wooden door on your left with a round sign above with the letters 'de'. Enter the door and take the stairs to the 1st floor, and you will find us :)]