Dit evenement is afgelopen.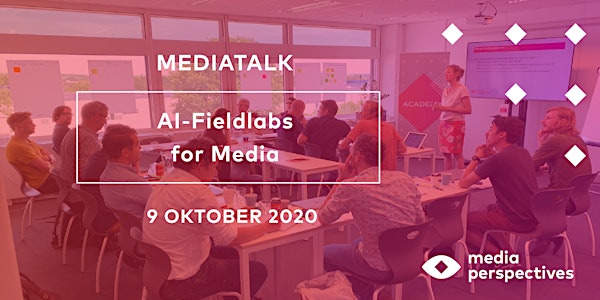 MediaTalk - AI Fieldlabs for Media
MediaTalk - AI Fieldlabs for Media
Over dit evenement
Programma
We zijn live! https://www.dutchmediaweek.nl/live/studio/
In deze mediatalk staan de AI-fieldlabs centraal. Binnen deze fieldlabs wordt door mediabedrijven en hogescholen samengewerkt aan de implementatie en uitvoering van verschillende Artificial Intelligence oplossingen. Dit kan zijn door kennis te delen, gezamenlijk aan een onderzoekaanvraag te werken, een mini-hackathon te houden of samen een benchmark op te stellen.
Een aantal experts van verschillende fieldlabs schuiven aan:
Roeland Ordelman - Techonolgy Innovation Manager bij Beeld en Geluid
Stefan Leijnen - Lector AI bij de Hogeschool Utrecht
Sarah van der Land - Senior innovation Digital Advisor bij NPO
Marlies van der Molen - Adviseur Participatie en Werk bij Gooi en Vechtstreek
We vragen hen waarom zij op deze specifieke thema's samen willen werken met andere mediabedrijven, wat ze hopen te bereiken en wat tot nu toe de resultaten en grootste uitdagingen zijn.
Praktische informatie
De MediaTalk zal plaatsvinden op donderdag vrijdag 9 oktober van 10.00 – 10.45 uur en is te volgen via een gratis livestream. Wil je erbij zijn? Registreer je dan snel! Een dag voor het event ontvang je de link naar de livestream per mail.
Heb jij een vraag voor een van de sprekers? Er is een chatfunctie tijdens de livestream, dus je kan ter plekke je vraag stellen! Of stuur hem nu vast in via communicatie@mediaperspectives.nl
Schrijf je snel in, we zien je graag op 9 oktober!