Dit evenement is afgelopen.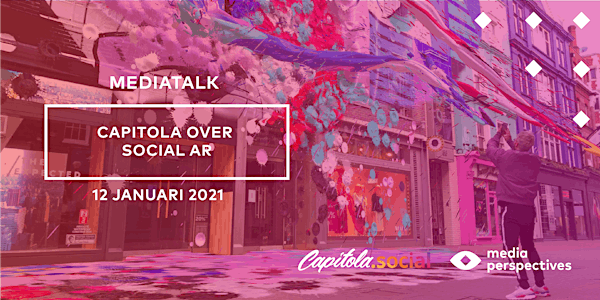 MediaTalk - Capitola over Social AR
Een interessante, actuele case of project uit de mediasector
Over dit evenement
Tijdens de eerste MediaTalk van 2021 gaat Mir Wermuth in gesprek met David Robustelli, co-founder en Head of Digital bij Capitola. Dit digitale bureau heeft zich bewezen als thought leader op het gebied van Augmented Reality en Virtual Reality en heeft het afgelopen jaar flink wat internationale prijzen in ontvangst mogen nemen voor hun innovatieve campagnes.
Ben je een developer of contentmaker die wil weten wanneer je social AR inzet en wat de meerwaarde ervan is? Schrijf je nu in voor de MediaTalk op 12 januari!
David praat ons bij over de enorme groei en ontwikkelingen op het gebied van Social AR en Web AR. Voor wie is deze technologie geschikt? En hoe zet je het in om je doelgroep te bereiken en te activeren? Aan de hand van een aantal cases van bekende opdrachtgevers neemt David ons mee in hun denkproces en oplossingen. Ook krijgen we alvast een inkijkje in twee gloednieuwe campagnes die in januari live gaan!
Programma
12.00 – 12.15 uur: Introductie
12.15 – 13.00 uur: Presentatie MediaTalk met Q&A
13.00 – 13.15 uur: Afsluiting
Vanwege de lockdown zal deze editie volledig plaatsvinden via Zoom. Uiteraard krijgen de deelnemers de mogelijkheid om tijdens de sessie vragen te stellen!