Dit evenement is afgelopen.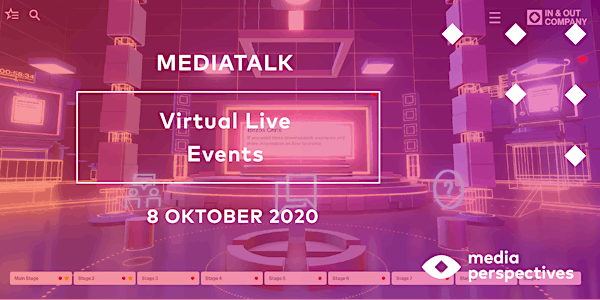 MediaTalk - Virtual Live Events
MediaTalk - Virtual Live Events
Over dit evenement
Programma
We zijn live! https://www.dutchmediaweek.nl/live/studio/
NEP en MediaMonks hebben hun krachten gebundeld en een nieuw virtueel platform gelanceerd voor wereldwijde evenementen. Dit innovatieve platform helpt organisaties binnen en buiten de eventbranche in hun transitie van traditionele evenementen naar virtuele of hybride events. Urgent in coronatijden, maar uiteraard ook daarna. Storytelling en hoogwaardige live eventproductie worden ingezet om een echte interactieve bezoekerservaring te creëren, die meer is dan een online meetingroom met videofeeds en chat.
Aan tafel zitten:
Ralf van Vegten – Managing Director bij NEP
Remco Vroom – Hoofd Platform Solutions bij MediaMonks
Aan de hand van een aantal voorbeelden van hun eventplatform, waaronder de virtuele conferentie van ASML met 16.000 developers uit 38 landen, bespreken we welke 'drivers of succes' van fysieke events vertaald zijn naar online versies, en hoe virtuele ruimtes interactie kunnen uitlokken.
Praktische informatie
De MediaTalk zal plaatsvinden op donderdag 8 oktober van 12.00 – 12.45 uur en is te volgen via een gratis livestream. Wil je erbij zijn? Registreer je dan snel! Een dag voor het event ontvang je de link naar de livestream per mail.
Heb jij een vraag voor een van de sprekers? Er is een chatfunctie tijdens de livestream, dus je kan ter plekke je vraag stellen! Of stuur hem nu vast in via communicatie@mediaperspectives.nl
Schrijf je snel in, we zien je graag op 8 oktober!