Dit evenement is afgelopen.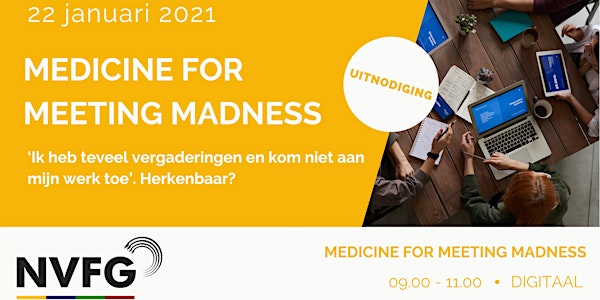 Medicine for Meeting Madness
Medicine for Meeting Madness
Beleid voor refunds
Geen restituties
Over dit evenement
'Ik heb teveel vergaderingen en kom niet aan mijn werk toe'.
Herkenbaar?
Madeleine de Hauke is Meetings Doctor en stelt in haar Key Note presentatie 'Medicine for Meeting Madness' de diagnose en behandeling vast.Begin het jaar goed en doe mee aan de on-line Key Note presentatie op vrijdag 22 januari a.s. van 09.00-11.00 uur.
Deze presentatie zal gevolgd worden door een de-brief sessie op vrijdag 12 februari a.s. van 09.00-10.30 uur.De presentatie zal in het Engels zijn.
About Madeleine de Hauke
Madeleine earned her medical degree from Imperial College London, before working in the chemical and medtech industries over two decades, several disciplines and three continents.
In 2018, Madeleine founded Business4Good out of a deep sense of wrong at the waste of time, energy and potential of brilliant minds from endless meetings. Now she coaches businesses to work more efficiently as well as effectively.