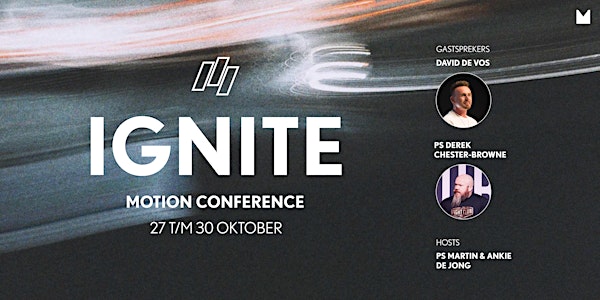 Motion Conference 2022 - IGNITE
27-30 oktober vindt Motion Conference met het thema IGNITE plaats in Utrecht. We zien uit naar wat God gaat doen, van harte welkom!
Waar en wanneer
Locatie
Motion Church Utrecht 2 Wijnesteinlaan 3525 AL Utrecht Netherlands
Kaart en routebeschrijving
Beleid voor refunds
Neem contact op met de organisator om een restitutie aan te vragen.
Eventbrite-kosten zijn niet restitueerbaar.
Over dit evenement
Uitnodiging
Waarschijnlijk heb je er al iets van gehoord. In Oktober hebben we de allereerste Motion conferentie IGNITE. We zijn hier enorm enthousiast over en geloven dat iedereen geraakt gaat worden door het passie volle vuur van God. Heerlijk aangestoken worden door Gods liefde en Goedheid, richting krijgen voor je leven en blokkades aan de voeten van Jezus brengen.
Blok de data, het duurt een weekend van donderdagavond 27 oktober tot zondagavond 30 oktober in Utrecht bij Motion church.
De sprekers zijn te gek! Het hele weekend is Pastor Derek Chester-Browne als gastspreker te gast met zijn vrouw Heidi. Een man van geloof, leider van impactvolle kerken in Zuid Afrika en een vurige spreker, kom luisteren wat God door hem heen gaat spreken!
David de Vos trapt vrijdagavond af en daar zien we met z'n allen naar uit! Een evangelist van eigen bodem die op conferenties over de hele wereld vol passie deelt over Jezus.
Ps. Martin&Ankie de Jong zijn onze hosts deze 4 dagen conferentie. De tickets zijn gratis omdat zij het op hun hart hebben dat deze conferentie een cadeau is voor iedereen die deelneemt.
We zien uit naar wat de sprekers gaan brengen, de worship tijd met Motion Worship en de ruime tijd voor ministry in elke sessie.
Voor vrijdagavond en zaterdag kun je een gratis ticket registreren. Donderdag en zondag is dat niet nodig.
Motion Conference Programma
Donderdagavond - IGNITE prayer night 20:00
Vrijdagavond - Sessie 1 met gastspreker David de Vos 20:00
Zaterdagochtend - Sessie 2 met gastspreker Ps Derek Chester-Browne 11:00
12:30 Lunchbreak Je kunt een lunchpakket ticket bij boeken op je zaterdag ticket voor 6 euro.
Zaterdagmiddag- Sessie 3 met Ps Martin&Ankie de Jong en Ps Derek & Heidi Chester-Browne 13:30
Zondag Celebration met Ps Derek die zal spreken in de dienst van 11:00
Zondagavond Open Heaven Night 20:00 - einde Conference
English version below.
——————
You've probably heard of it already. In October we have the very first Motion conference IGNITE. We are very excited about this and believe that the passionate fire of God will touch everyone. Being lit wonderfully by God's love and Goodness, getting direction for your life and bringing obstacles to the feet of Jesus.
Block the dates, it lasts a weekend from Thursday evening October 27 to Sunday evening October 30 in Utrecht at Motion church.
We look forward to it will bring, the worship time with Motion Worship and the ample time for ministry in each session.
The speakers are awesome! Throughout the weekend, Pastor Derek Chester-Browne will be a guest speaker with his wife Heidi. A man of faith, leader of impactful churches in South Africa and a fiery speaker, come hear what God is going to speak through him!
David de Vos kicks off on Friday evening and we are all looking forward to that! A homegrown evangelist who passionately shares about Jesus at conferences around the world.
Ps Martin & Ankie de Jong are our hosts for the 4th day of the conference. The tickets are free because they believe that this conference is a gift for everyone who participates.
You can register a free ticket for Friday evening and Saturday. For Thursday and Sunday, this is not necessary.
Motion Conference Program
Thursday evening - IGNITE prayer night 20:00
Friday evening - Session 1 with guest speaker David de Vos 20:00
Saturday morning - Session 2 with guest speaker Ps. Derek Chester-Browne 11:00
12:30 Lunch break You can book a lunch ticket for 6 euro.
Saturday afternoon- Session 3 with Ps Martin & Ankie de Jong and Ps Derek & Heidi Chester-Browne 13:30
Sunday Celebration with Ps Derek who will speak in the service at 11:00 am
Sunday evening Open Heaven Night 20:00 - end of Conference
Everyone is welcome, so kindly invite people to join us and participate.