Dit evenement is afgelopen.
MUMSTER FULL CIRCLE PREMIÈRE
On Sunday 12 December MUMSTER MOVEMENT, will launch the documentary FULL CIRCLE during an online live premiere.
Waar en wanneer
Locatie
LENA the fashion library 174H Westerstraat 1015 MP Amsterdam Netherlands
Kaart en routebeschrijving
Over dit evenement
AMSTERDAM - On Sunday 12 December, Chanel Trapman, filmmaker and founder of the MUMSTER MOVEMENT, will launch the documentary FULL CIRCLE during an online live premiere. FULL CIRCLE was produced in collaboration with the Municipality of Amsterdam, among others. The documentary portrays the endless stream of millions of discarded garments and looks for solutions to break this vicious circle of overproduction, overconsumption and textile waste. FULL CIRCLE is a call to consumers, the fashion industry, and the government to work together against the overproduction and overconsumption of new clothing and be more creative with existing, already produced garments. Especially now, the time at the end of the year, when everyone is tempted to buy excessively during the holiday sales.
The dark world of textile waste
What happens if we live in a society in which we are no longer invited to be creative but tempted to consume at every turn? A world is emerging in which overproduction and overconsumption are the norms, and no one knows where the problem ends and the solution begins. The documentary FULL CIRCLE shows how we break through this vicious cycle. The viewer is immersed in the dark world of textile waste and the solutions against it.
This is what happens to your discarded clothes
The documentary shows what happens to clothes after they end up in the Sympany box. Sympany is faced with the task of processing 500,000 kilos of textile waste every week. Did you know, for instance, that employees sort these millions of garments by hand every day?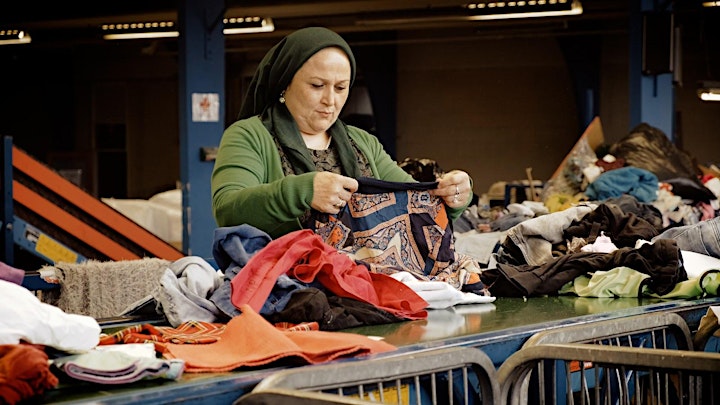 Jacqueline Cramer: "Apart from using less, reusing, and the redesigning of textiles, it is important to think about more fundamental questions: how can we avoid overconsumption and the discard of clothing in the first place, and take a look at our clothing in a more conscious way?"
A circular clothing collection made entirely from discarded textiles
As a viewer, you get a look behind the scenes, following how designers Leonie Vlaar, Andrea Garcia and Annalie van Doorn, in collaboration with atelier Makers Unite and textile collector Sympany, make a clothing collection from donated textile waste. The textiles were donated by Sympany and several inspiring consumers, including poet Jesse Laport, creator Romy Bresseleers and Cosmopolitan Fashion Editor Fatou Thiam Dogo Fall Mawadior, who also share their personal story behind their donated clothing.
Jesse Laport: "The big fashion chains are investing too much money into creating an unsustainable climate in which too much clothing is the norm."
Creativity, borrowing and swapping are the solution
In addition to outlining the problem, the documentary provides insight into possible solutions and alternatives to the textile problem. For example, Romy Bresseleers proposes that the endless rotation of clothing is a solution, and it would be good to challenge yourself not to buy anything for half a year.
In short: a – shocking – look behind the scenes and inspiring story that incites action to do better from now on.
Fatou Thiam Dogo Mawadior: "As a merchandiser myself, I saw that people would buy an item, just because I had put it in a spotlight. If I would not have done that, the item would probably not have been bought so many times."
FULL CIRCLE: An infinite rotation of clothes
The circular fashion collection made of 15 pieces of clothing will be available exclusively at Lena's Library, a clothing library in Amsterdam, from its online launch on December 12. From November 26 on Black Friday to December 15, instead of buying new clothes, enthusiasts can register for the online premiere of FULL CIRCLE. They also have a chance to be invited to the physical event in the clothing library, where a select group will be among the first to borrow a piece of clothing from the collection and get a free membership from Lena Library.
Check out our website for more information about the collection, the designers and partners of the FULL CIRCLE project.
Offline program:
14:30 - 15:00 Walk in
15:00 - 15:45 Premiere FULL CIRCLE
15:45 - 16:15 Q&A and panel talk
16:15 - 17:00 Chance to borrow a piece from the collection
Online program:
15:00 - 15:45 Premiere FULL CIRCLE
15:45 - 16:15 Q&A and panel talk
After the free registration you will receive the link to the online premiere!