Meerdere data
Musique classique dans l'église avec Gara quartet
Evenementdetails
Locatie
Noordeinde 25
25 Noordeinde
2514 GB Den Haag
Netherlands
Restitutiebeleid
Neem contact op met de organisator om een restitutie aan te vragen.
Eventbrite-kosten zijn niet restitueerbaar.
Beschrijving van het evenement
Over dit evenement
Gara Quartet was founded in 2020 by four young musicians that felt the necessity of devoting themselves to the Historical Informed Practice with freshness and passion. Although the founding of the quartet might seem quite recent, the four members have worked together already for many years in different ensembles all over Europe.
The fundamental milestones of this ensemble are, on the one hand, to explore intensively the origin of the string quartet repertoire - in which research and work with musicological sources play a central role - and on the other hand, to give new impulses to the musical dialogue along the rhetoric guidelines with new performing perspectives and sound conception. The challenge of finding other ways of playing but keeping a historically informed background is an exciting task for the quartet, as is the search for its own identity.
After studying in many different places like The Hague, Cologne, Trossingen and Frankfurt – Gara Quartet chose The Hague and Cologne as the starting point for the ensemble. Its four members work regularly with important orchestras in the Early Music scene, such as Concerto Köln, Akademie für Alte Musik Berlin, Le Concert des Nations, Bach Vereniging, Orchestra of the Eighteenth Century among others. They have received lessons from renowned performers of the field such as Shunske Sato, Amandine Beyer, Richard Gwilt, Olivier Fourès, Roel Dieltiens, Lars Ulrik Mortensen, Petra Müllejans and from ensembles like the Casals and Quiroga Quartets.
Their interest in experiencing and researching deeply the possibilities of the string quartet, together with their desire to discover new sound layers, lead the Gara Quartet to display an energetic and vibrant playing, taking full advantage of the richness gut strings offer and the liveliness of historical bows.
Future engagements include a CD recording recovering Spanish musical patrimony and concerts in The Netherlands, Germany and Spain.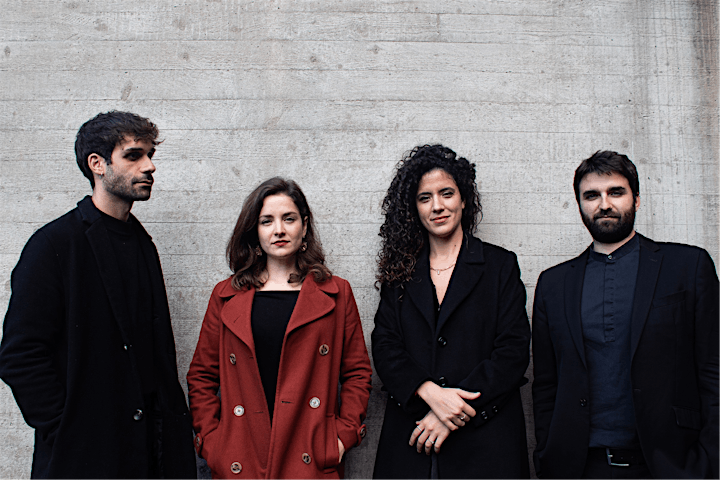 JESÚS MERINO, Violin
Jesús Merino is a Spanish-born violinist known for his energetic and full-of-fantasy performances on both, historical and modern instruments. In equal demand as concertmaster, chamber musician, soloist and even as a violist, the miscellaneousness of his activities reflect his eclectic and nature as musician.
Fascinated by the historical performance practice, it has become the main fieldof his activity. He serves regularly as guest concertmaster of the Concerto Köln and La Chapelle Harmonique, with whom he also plays as soloist, and collaborates with the Collegium Vocale Gent, Akademie für Alte Musik Berlin, Il Convito, Compagnia di Punto, Bach-Akademie and Cölner Barockorchester, among others.
LORENA PADRÓN, Violin
She performs as Concermaster and soloist with the Orquesta Barroca de Tenerife, is a member of Recreation Barock (Austria) and works regularly with other baroque ensembles such as Akademie für Alte Musik Berlin, Spira Mirabilis, Concerto Köln, Capella Augustina, Cölner Barockorchester, Kölner Akademie and Les Ambassadeurs, among others.
IVÁN SÁEZ SCHWARTZ, Viola
In 2018 Iván finishes a double master in both classical and baroque viola. Iván plays regularly with "Le concert des Nations" conducted by Jordi Savall. Iván has collaborated with "Les arts Florissants" conducted by William Christie. He is a usual player of the "Bach Orchestra of the Netherlands". He has played with ensembles like "Sinfonie Atlantique", "Orchestra of the Eighteen Century", "La academia de los afectos", "Den Haag Gallant Orchestra", "Collegium Musicum Den Haag", etc...
CANDELA GÓMEZ BONET, Cello
Cellist Candela Gomez Bonet, internationally active as a continuo player and chamber musician with ensembles and chamber music groups from all over Europe dedicated to the historical informed performance of baroque and classical repertoire. She currently collaborates with various professional groups such as Concerto Köln, Concert des Nations, Cölner Barockorchester, Concerto München, Irish Baroque Orchester, Nordic Baroque Orchester...She is also chamber music enthusiast and one of the founding members of the "Gara Quartett", a string quartet dedicated to the performance of classic and romantic repertoire on period instruments. Candela is particularly interested in the works of composer Anton Kraft, because of the technical challenges. She is rewarded for her efforts by selecting for the final of the 2017 York Early Music International Competition.
PROJECT Madrid 1770
Around 1770 the Spanish capital was the country's cultural hotspot. La "Gaceta de Madrid", the official newsletter of the Goverment led by King Carlos III, announced in July 1774 the publication of the six string quartets Op. 3 by Manuel Canales (1747-1784, Toledo), a shining example of Canales' masterful skills of European Classicism. "La Gaceta de Madrid" not only registered the musical activity of Spanish composers, but also regularly mentioned news and events involving some of the most prominent European artists.
We can find a report about the arrival in Spain of the six string quartets Op.20 by Joseph Haydn in December 1775. These compositions are, among other works, the pieces that earned him the nickname of "The Father of the String Quartet". Thanks to this journal we know how the masterpieces of European Classicism came to the hands of spanish composers like Canales, leading their way towards this new and fresh language.
Haydn's and Canales' pieces were not the only string quartets being released in Madrid at that time. Luigi Boccherini (1743-1805) wrote his Op.8 and 9 in 1770 during his period in the Spanish capital. In these works the cello was freed from its traditional accompanying role of "basso continuo" while the Spanish scent clearly impregnated Boccherini's composition style.
Locatie
Noordeinde 25
25 Noordeinde
2514 GB Den Haag
Netherlands
Restitutiebeleid
Neem contact op met de organisator om een restitutie aan te vragen.
Eventbrite-kosten zijn niet restitueerbaar.