Dit evenement is afgelopen.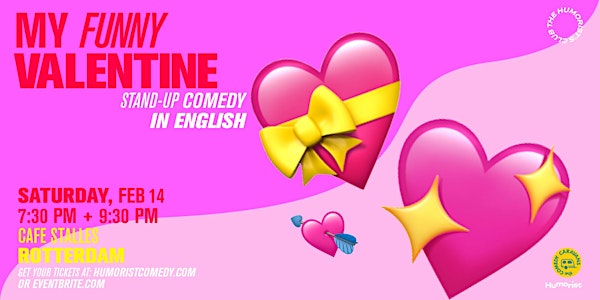 MY FUNNY VALENTINE in ROTTERDAM -9:30PM Show - ENGLISH STAND-UP COMEDY
Whether you're in love, scouting for a lover, or fed up with romance, this special Valentine's Day comedy show will leave you in stitches!!
Datum en tijd
di. 14 feb. 2023 21:30 - 23:00 CET
Locatie
Café Stalles 11A Nieuwe Binnenweg 3014 GA Rotterdam Netherlands
Beleid voor refunds
Neem contact op met de organisator om een restitutie aan te vragen.
Eventbrite-kosten zijn niet restitueerbaar.
Over dit evenement
MY FUNNY VALENTINE 💖
English Stand-Up Comedy in Amsterdam 🌟
Book now and come get this lovin' and laughin'!
---EVENT DETAILS
🗓 Tuesday, February 14
🕖 Doors open 9:00 PM, Show starts 9:30PM
📍 Cafe Stalles, Rotterdam
What dis?
It's that time of the year! Whether you're deeply in love, scouting for your next lover, or completely fed up with romance, this special Valentine's Day comedy show will leave you in stitches – whether it's because you laughed so hard or you had one rosé too many is up to you!
Let's laugh at love together and make this Saturday night one to remember. Someone's bound to cry, which always makes for a good story in a few years!
The show is 100% in English.
Bring all your international friends AND the lovely Dutch ones!
🎟 Click 'Book Now' for tickets
🐣 Early Bird tickets still available!
WITH
🙈 🙉 🙊 Rogier Bak 🙈 🙉 🙊 www.rogierbak.com
Rogier Bak is stand-up comedian and actor. He is Dutch, yes, but has worked incredibly hard to make sure you could never tell. Having spent his formative years the US, he feels like a foreigner in his home country. He may just be the only Dutch person who wishes he were American.
With over 108K followers across Instagram and TikTok, his daily comedy videos of satirical takes on Dutch and American culture, accents, and observations have accrued well over a million monthly views in 2022, with all-time views exceeding 15 million.
Inspired by his life and personal experiences, Rogier has an expressive storytelling-style of comedy that is energetic and engaging. He produces and hosts Humorist Comedy shows in Amsterdam and The Hague. Recent sold-out shows include Smokin' Goose Comedy Room at TOBACCO Theater and The Humorist Showcase at Boom Chicago.
He has performed throughout The Netherlands, Belgium, Germany, France, the UK, the US, and Australia. In 2021, Rogier wrote a segment called "Ode to the Audience" for the 2021 Eurovision Song Contest, which aired during the grand finale as a comedic nod of appreciation towards the show's loyal fanbase.
&
🙈 🙉 🙊 Luana Matei 🙈 🙉 🙊 @luanacomedy
Born in Romania, lived in Tokyo for 12 years and got trapped in Amsterdam during the lockdown. Her comedy is dark, insightful, and deftly encapsulating her experiences having lived all over the world! Mainly performing in English, but also Japanese & Romanian, based in Amsterdam / Berlin, she opened/promoted for comedians such as Yumi Nagashima, Yuriko Kotani, Radu Isac, Mike Rice, Victor Patrascan, Sid Singh etc.
In June 2022 Luana kicked off the successful standup comedy show called "3 Girls 1 Mic". Luana started the Comedy Open Mic at Comedy Cafe Amsterdam & Utrecht, toured all over Netherlands with sold out shows in Amsterdam, The Hague, Eindhoven, Utrecht, and outside the Netherlands in Berlin, Munich, Hamburg, Vienna, Budapest, Krakow, etc.