Dit evenement is afgelopen.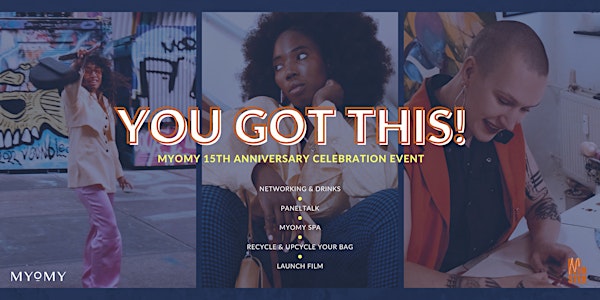 MYoMY's 15 years anniversary - YOU GOT THIS!
My-o-my.. this year MYoMY turns 15! We want to celebrate our 15th anniversary with the special campaign 'YOU GOT THIS!'
Waar en wanneer
Locatie
A'DAM Toren 1 Overhoeksplein Floor 18 1031 KS Amsterdam Netherlands
Kaart en routebeschrijving
Over dit evenement
My-o-my.. dit jaar bestaat MYoMY 15 jaar! We willen ons 15 jarig jubileum vieren met een event en speciale campagne 'YOU GOT THIS!' om jou en iedereen in onze empowerment keten te bedanken. Want van maker, retailer, drager, platform tot MYoMY ambassadeur: zonder jullie waren we nergens geweest!
Met het feestelijke evenement vieren we 15 jaar impact en zetten wij jou en jouw long-lasting MYoMY tas graag in het zonnetje. We nodigen je uit om jezelf en je bezittingen extra te waarderen, door goed voor jezelf en je tas te zorgen. Samen hebben jij en jouw tas namelijk een heleboel herinneringen, misschien met hier en daar een kras of een vlek tijdens jullie reis. Daarom vonden we het tijd om jullie allebei te trakteren op ons ontspannend programma!
Tijdens het 'YOU GOT THIS' jubileum event lanceren we de brandvideo campagne gemaakt door MUMSTER MOVEMENT, kun je in de MYoMY SPA genieten van een massage terwijl je tas wordt gepoetst, ingeleverd wordt voor reparatie of je tas upcycled wordt door kunstenaar Roxy van Bemmel. Laat je inspireren door upcycled items van onze ontwerpers en woon tijdens het evenement verschillende talks bij van onder andere oprichtster Marja Baas over Fair Trade ondernemerschap en duurzaamheid. En er is nog veel meer.. we kijken er naar uit jou daar te ontmoeten!
-
My-o-my.. this year MYoMY turns 15! We want to celebrate our 15th anniversary with the special campaign 'YOU GOT THIS!' to thank you and all the wonderful people in our empowerment chain. Because from maker, retailer, wearer, platform to MYoMY ambassador: without you we would be nowhere!
With the festive event we celebrate 15 years of impact and we like to put you and your long-lasting MYoMY bag in the spotlight. We invite you to appreciate yourself and your belongings, by taking good care of yourself and your bag. Together you came a long way, maybe with some scratches and patches, so we found it time to treat you both with our relaxing program!
At the 'YOU GOT THIS' event we will launch the brandvideo campaign made by MUMSTER MOVEMENT, you can enjoy a massage in the MYoMY SPA while having your bag polished, brought in for repair, or have your bag upcycled by artist Roxy van Bemmel. Get inspired by upcycled items by our designers and attend different talks during the event including founder Marja Baas about Fair Trade entrepreneurship and sustainability. And there is more.. love to meet you there!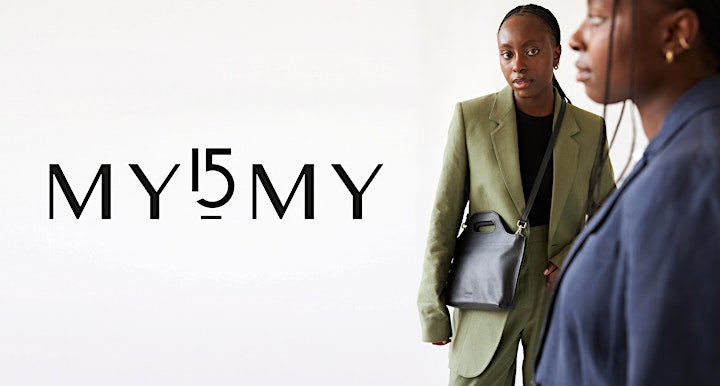 About MYoMY
The Dutch bag brand MYoMY (2007) has become famous with her iconic MY PAPER BAG, designed by Ramon Middelkoop. MYoMY now markets various bags and accessories with the goal of making the world a fairer and more equal place. As a Social Enterprise and certified B corporation she does this by intensively working together with changemakers in Bangladesh, India and Romania. Fair trade produced, with respect for nature, and a timeless design that will last for years. Every MYoMY bag is made to create a chain of empowerment from maker to wearer.
www.myomy.nl
About MUMSTER MOVEMENT
MUMSTER is a groundbreaking conscious campaign agency putting the inspiring visions of fashion pioneers into the spotlight to accelerate positive change in the fashion industry.
www.mumster.nl