Dit evenement is afgelopen.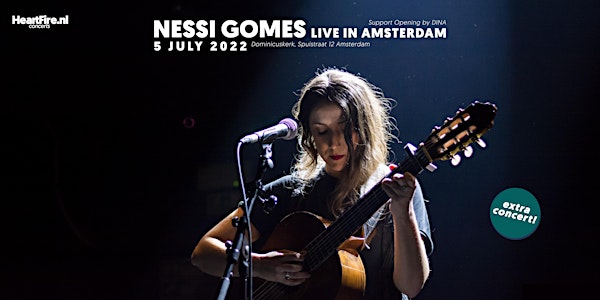 Nessi Gomes | Extra HeartFire Concert Amsterdam | Opened by Dina Music
Locatie
Dominicuskerk
Spuistraat 12
1012 TS
Amsterdam
Netherlands
Restitutiebeleid
Geen refunds
Join Nessi Gomes on her return to Amsterdam for an enchanting concert with songs that will touch your heart and light up your soul.
Over dit evenement
Join Nessi Gomes on her return to Amsterdam!
We feel blessed to host the enchanting concert of Nessi Gomes at the majestic Dominicuschurch in the Heart of Amsterdam)
Nessi will sing from her acclaimed debut album 'Diamonds & Demons' as well as newborn songs.
And what a joy that Dutch singer/composer/producer Dina will open the concert for Nessi Gomes.
It will be an evening that touches your heart deeply and connects you with the depths of your soul. Join us!
British-Portuguese musician Nessi Gomes, winner of Best of British Unsigned Female 2016, is a composer and lyricist of rare invention and beauty. Born on the tiny Island of Guernsey, Gomes channels influences from both sides of her ethnicity, blending the essence of the traditional, emotional and 'larger than life' Fado folk music with British contemporary inspiration.
Her debut album Diamonds & Demons (released October 2016) reveals a series of intricately detailed, hauntingly atmospheric and lushly textured avant-ballads. An authentic and heartfelt search for light, depth, hope and truth.
She played in 30 countries in the past 4 years includes major festivals in Europe, North American tour and Australia.
Nessi's wish is to deeply touch and shake the audience, to stir and shift something within them, to speak of the uncomfortable so that it may pass, and to expose and sing the human experience to its fullest expression.
Practical Information
Nessi Gomes in Concert Amsterdam 2022
Date: July 5th 2022
Venue: Dominicuskerk, Spuistraat 12 Amsterdam
Time: 19:30 - 22:00 (doors open 18:30)
More info on the concert on our website, here. TIckets/More info: heartfire.nl
We are looking forward to welcome you you for an evening of musical delight and beauty!
With our Hearts on Fire,
Daniëlle & Jeroen
Team HeartFire