Dit evenement is afgelopen.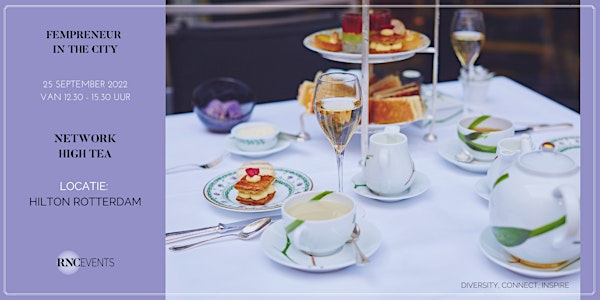 Network High Tea - 'A Celebration By Us'
- DIVERSITY, CONNECT, INSPIRE - Network High Tea
Waar en wanneer
Locatie
Hilton Rotterdam 10 Weena 3012 CM Rotterdam Netherlands
Kaart en routebeschrijving
Beleid voor refunds
Geen refunds
Over dit evenement
Netwerken onder het genot van een luxe high tea, op zondag 25 september van 12.30 - 15.30 uur (inloop vanaf 12.00 uur) @ Hilton Rotterdam. Op een ontspannen manier en op jouw tempo, jouw netwerk uitbreiden, opbouwende gesprekken voeren, ervaringen en kennis delen.
Naast een verwenmiddag hebben we ook een mini workshop voor je geregeld. Sherine Rivers (Selfbitious Boutique) zal dan een mini workshop geven over jouw mindset. Haar motto is 'The more you invest in you, the greater your impact will be!' Sherine geeft (online) workshops en trainingen aan ondernemers en professionals op het gebied van mindset en succes gewoontes. Het centrale thema van haar programma's en producten, is de samenwerking met het brein en de effecten hiervan op jouw mindset en manier van handelen. Met haar trajecten ondersteunt ze haar klanten in het behalen van hun next level doelen.
Ken jij personen die hierbij aanwezig moeten zijn, stel ze vooral op de hoogte. Wacht niet te lang met het reserveren van jouw kaarten, want in verband met het kleinschalige karakter van dit evenement is er beperkt plek! Dit netwerkevent is geschikt voor ondernemers en personen in loondienst.
Kosten:
RNC Early Bird, € 65,- ex btw
RNC Late Bird, € 80,- ex btw
Interesse in een van de businesspakketten, productsponsoring of een andere samenwerking voor dit event? Mail naar info@rncevents.nl voor meer informatie over de mogelijkheden.
Dit evenement wordt georganiseerd door RNC Events, Services & Support en Fempreneur in the City.
We kijken uit naar je komst!
NB. bij dit evenement worden foto en video opnames gemaakt. Wanneer je aan dit evenement deelneemt, geef je de organisatie toestemming om beelden (foto en video) waar je op staat te gebruiken voor communicatiedoeleinden.