Dit evenement is afgelopen.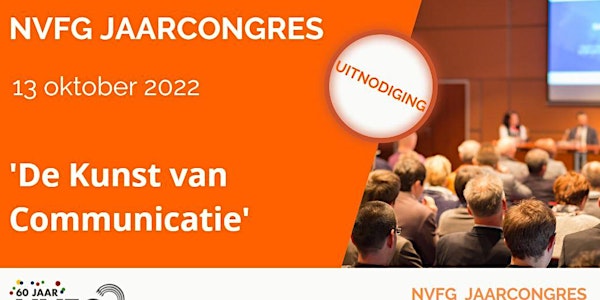 NVFG Jaarcongres 2022
De kunst van communicatie
Waar en wanneer
Locatie
Buitenplaats Doornburgh 17 Diependaalsedijk 3601 GH Maarssen Netherlands
Kaart en routebeschrijving
Beleid voor refunds
Restituties tot 1 dag voor evenement
Eventbrite-kosten zijn niet restitueerbaar.
Over dit evenement
De afsluiting van een fantastisch lustrumjaar zal vorm krijgen tijdens ons Jaarcongres op donderdag 13 oktober a.s. 
Met een geweldig programma met de titel 'De Kunst van Communicatie' zullen we veel facetten van communicatie de revue laten passeren. Het onderwerp is voor een ieder van jullie van toepassing. We gebruiken het elke dag, soms gaat het makkelijk en soms moeilijk. Het mooiste is dat het iets is dat je of in je eentje doet of met meerdere mensen en zelfs met een hele groep. Het wordt een interactieve en leerzame middag, waarin we o.a. onszelf een spiegel zullen voorhouden, een aantal van ons zich moet proberen te bevrijden uit een escape room en ons laten vermaken door een fantastische stand-up comedian.
We hebben deze keer een bijzondere locatie gevonden: Buitenplaats Doornburgh in Maarssen. 
Naast het plenaire gedeelte zijn er 4 workshops waarvan je er 2 kunt volgen. In het programma lees je hier meer over.