Dit evenement is afgelopen.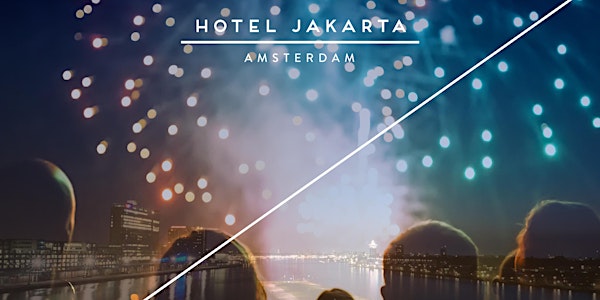 NYE Party (Dinner & Drinks included) - Hotel Jakarta Amsterdam
Locatie
Hotel Jakarta Amsterdam
Javakade 766
1019 SH Amsterdam
Netherlands
Restitutiebeleid
Geen refunds
Beschrijving
(for english see below)
FINAL TICKETS SOLD AT THE DOOR!
***
Selamat Tahun Baru! Oud & Nieuw Pasar Makan
Vier de laatste uren van 2019 in Hotel Jakarta tijdens ons Pasar Malam New Years Eve Party, onze foodmarkt in Indonesische stijl. Geniet van Aziatische smaken gecombineerd met onze westerse lekkernijen; saté, oesters, salades, vlees en vis - gestoomd, gegrild of geroosterd, onze chef-koks zullen hun keuken verlaten om het heerlijkste eten voor je te bereiden in een informele omgeving verspreid over het gehele hotel.

We verwelkomen je vanaf 18.00 uur met een glas champagne en hapjes om je op te warmen voor een onvergetelijke reis in Jakarta. Maak je geen zorgen om de rest van de nacht, want we hebben de hele nacht onbeperkt wijn, prosecco, Bintang, Gin & Tonics, Moscow Mules en Dark & Stormy voor je klaarstaan. Als je nog steeds niet genoeg hebt gehad als de laatste deuntjes in het café worden gespeeld, dan is er de afterparty in de Malabar tot 04.00 uur

Onze mainstage, Café Jakarta, is waar alle actie gebeurt met opzwepende live-acts en oogverblindend entertainment, een line-up met de beste DJ's van Amsterdam, een dansvloer en live kookstations.

Voor een meer intieme setting zal onze Lounge op de eerste verdieping worden omgetoverd tot een "silent disco" met de beste R&B en hiphop klassiekers.

Bakkerij Westers is de plek waar je kunt genieten van koffie na het eten en waar er een uitgebreide selectie van dessert wordt geserveerd.

Voor disco en sexy housemuziek is onze Malabar op de bovenste verdieping de place to be, met natuurlijk het beste uitzicht over de prachtige stad Amsterdam.
Prijzen:
Volwassenen: €170,- p.p. (exclusief reserveringskosten)
Kinderen 14 t/m 17 jaar: €75 p.p. (exclusief reserveringskosten)
Kinderen 6 t/m 13 jaar: €45 p.p. (exclusief reserveringskosten)
Kinderen 0 t/m 5 jaar: gratis

Dresscode: feestelijk maar wees vooral jezelf!
Inclusief één glas champagne bij ontvangst, een selectie van dranken en een Indonesische, culinaire ervaring. Tijd: vanaf 18:00-02:00. Malabar Party tot 04:00. Enkel gasten boven de 18 jaar zijn toegestaan in Malabar. Malabar heeft beperkte capaciteit, als Malabar vol is geldt een persoon eruit, een persoon erin. Er zal geen grote vuurwerkshow plaatsvinden op de Kop van Java. De gemeente wil in plaats daarvan vooral 'lokale vieringen' stimuleren.



---
Selamat Tahun Baru! New Year's Eve Pasar Makan
Celebrate the final hours of 2019 in Hotel Jakarta during our Pasar Malam New Years Eve party, our Indonesian style Food Market. Enjoy Asian flavors combined with our western delicacies; satay, oysters, salads, meat & fish – steamed, grilled or roasted, our chefs go out of their kitchen to prepare the best selection of food for you in an informal setting throughout over the whole hotel.
We will welcome you from 6PM with a glass of champagne and canapés to warm up for an unforgettable journey in Jakarta. Don't worry about the rest of the night, because we have unlimited wine, prosecco, Bintang, Gin & Tonics, Moscow Mules and Dark & Stormy's ready for you all night long. If you still did not had enough when the final tunes are played in the Café, then there is the afterparty in the Malabar till 4am
The main area, Café Jakarta, is where all the action happens with uplifting live acts & dazzling entertainment, a line up featuring Amsterdam's finest nightlife DJ's, dance floor and live cooking stations.
For a more intimate setting, our Lounge on the first floor will be transferred into a "silent disco" with the finest R&B and hottest hip hop classics.
Bakery Westers is where you can enjoy your after dinner coffee and an extensive selection of dessert is served.
For disco and sexy house tunes, our top floor Malabar is the place to be, with of course the best view over the beautiful city of Amsterdam.

Prices:
Adults: €170,- p.p. (excluding service fees)
Children 14 up to and including 17 years old: €75 p.p. (excluding reservation fee)
Children 6 up to and including 13 years: €45 p.p. (excluding reservation fee)
Children 0 up to and including 5 years: free

Dresscode: festive, but come as you are!

Includes one glass of Champagne at arrival, a selection of drinks and an Indonesian, culinary experience.
Time: from 6PM - 2AM. Malabar party until 4AM. Only guests over the age of 18 years are allowed at Malabar. Malabar has limited capacity, when full it's on first come, first served basis. There will be no fireworks display from the council this year at the Kop van Java, the council wants to focus on 'local celebrations'.