Dit evenement is afgelopen.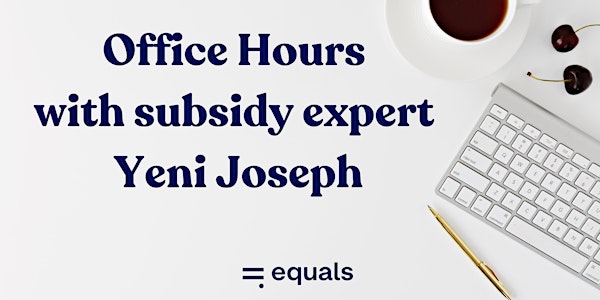 Office Hours with subsidy expert Yeni Joseph
Women empowerment organizations get the opportunity to ask all your questions regarding subsidy opportunities and government support.
Waar en wanneer
Locatie
Equals Clubhouse Raamgracht 6 1011KK Amsterdam Netherlands
Kaart en routebeschrijving
Beleid voor refunds
Geen restituties
Over dit evenement
During the monthly Office Hours you get the opportunity to ask Yeni Joseph all your questions regarding subsidy opportunities and government support in a 25 min one-on-one session. These Office Hours are for women empowerment organizations and businesses.
Language: Dutch and English.
Understanding more about subsidies or approaching for subsidies might be challenging, especially for those who are novice. Equals is here to support you in becoming more aware of the subsidy opportunities there are. Want to learn about more subsidy opportunities for your business or have questions about a subsidy opportunity you have seen?
Examples of subsidy opportunities:
1: Discuss if your company would meet public funding/subsidy opportunities criteria
2: Local subsidy opportunities, such as Kansen voor West
3: National subsidy opportunities, such as: MIT (opportunity for e.g. feasibility studies) and SIB vouchers (advice and coaching on internationalization strategy)
4: European subsidy opportunities, such as Horizon Europe (EU's key funding programme for research and innovation)
5: Government schemes for/to attract foreign (tech) talent, such as: 30% tax ruling, Dutch Startup Visa, Essential Personnel Scheme and Highly Skilled Migrant
Your timeslot will be booked between 13.00 - 15.00h and will take place at the Equals Clubhouse.
It is mandatory to have an Equals Membership or Equals Pass* to be able to participate. If you don't have this, you can buy a ticket that includes a Equals Pass for one year.
______________________________________________________________________________________________________________________
*Equals Pass: annual subscription of €5,- per month / €60,- per year inclulding vat. Excluding Eventbrite service fee.
The Equals Pass gives you access to:
- subsidy programming such as Class of '23 with a Cup of Ambition, Humblebrag program, Momentum program and more.
- Office Hours for subsidy opportunities and government support
- 1 x per half year access to the Clubhouse Drinks