Dit evenement is afgelopen.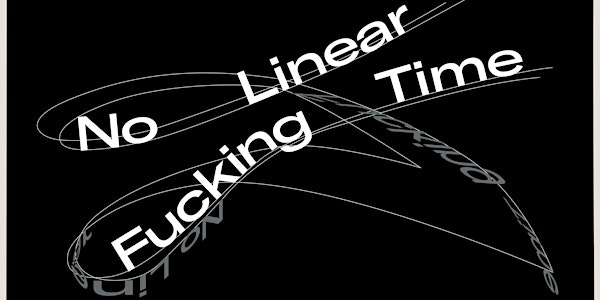 ONLINE: Opening Program "No Linear Fucking Time"
An exhibition with gatherings, an online publication, and a symposium, opening on 3 December 2021
Waar en wanneer
Locatie
BAK, basis voor actuele kunst 13A Pauwstraat 3512 TG Utrecht Netherlands
Kaart en routebeschrijving
Over dit evenement
BAK, basis voor actuele kunst, Utrecht proudly invites you to the opening of No Linear Fucking Time,* on 3 December 2021.
UPDATE: due to the new Covid-19 restrictions in the Netherlands, the roundtable discussion is now fully online. It now takes place from 18.30-20.00 hrs, via Zoom: https://us02web.zoom.us/j/81619108334. It will also be livestreamed via the BAK website and BAK Facebook page.
Schedule Online Opening Program:
18.30–19.45 hrs Introduction by BAK's general & artistic director Maria Hlavajova & BAK's curator of public practice Rachael Rakes
18.45–20.00 hrs Roundtable with artists Femke Herregraven, Jumana Manna, and Claudia Martínez Garay
During the day, it is now possible to come to BAK to visit the exhibition in the presence of the artists. Please join us during one of three bookable time slots: 13.00–14.15 hrs, 14.15–15.30 hrs or 15.30–16.45 hrs. Capacity is limited, please book your time slot here.
--
On No Linear Fucking Time
No Linear Fucking Time is an exhibition with gatherings, an online publication, and a symposium, that propose to unsettle dominant temporalities and model alternate forms of livable time.
Convened by BAK's curator of public practice Rachael Rakes with artist-interlocutors Femke Herregraven,Jumana Manna, and Claudia Martínez Garay, as well as writer Amelia Groom, contributors to the exhibition, program, and research include: John Berger with Mike Dibb and Chris Rawlence, Hemali Bhuta, Pauline Boudry and Renate Lorenz, Simone Fattal, Femke Herregraven, Tehching Hsieh, Jumana Manna, Vibeke Mascini, Claudia Martínez Garay, Jean Katambayi Mukendi, Yuri Pattison, Antonio Paucar, Rita Ponce de León, Susan Schuppli, Sissel Tolaas, and Antonio Vega Macotela, among others.
The artists in the project each deal with critical conceptions of time in their own work, through drawing, painting, formed and found objects, machines, documentary and moving image practice, and a variety of creative visual and textual speculations. Artist-interlocutors Herregraven, Manna, and Martínez Garay present newly-commissioned work and also act as co-researchers and co-programmers, participating in convening events and bringing the broader field of theirs and related research together. Alongside them are several practitioners whose works will be presented in the exhibition and through discursive and performative events. Three projects unfold additionally in off-site Utrecht locations in 2022, in collaboration with artists Mascini, Schuppli, and Tolaas, and partner organizations including Museum Catharijneconvent, Utrecht and others.
Accompanying the exhibition and public program is the latest focus of BAK's online research platform, Prospections, co-edited with Amelia Groom, featuring newly commissioned texts, archival resources, interviews, and artistic contributions from and with Black Quantum Futurism, Walidah Imarisha, Elizabeth Freeman, JJJJJerome Ellis, Adriana Knouf, Jason Allen-Paisant, Marianne Shaneen, Timur Si-Qin, and Joel Spring, among others. Finally, a culminating symposium takes place in April 2022.
Read more on the project here.
Please be aware that the program is subject to change, depending on the latest official Covid-19 measures in the Netherlands. Registered guests receive an update via e-mail should an important change occur.
--
The realization of this project has been made possible with the financial support of the Dutch Ministry of Education, Culture, and Science; the City of Utrecht; and Stichting Zabawas, The Hague.
BAK's main partner in the field of education and research is HKU University of the Arts Utrecht, Utrecht.