Dit evenement is afgelopen.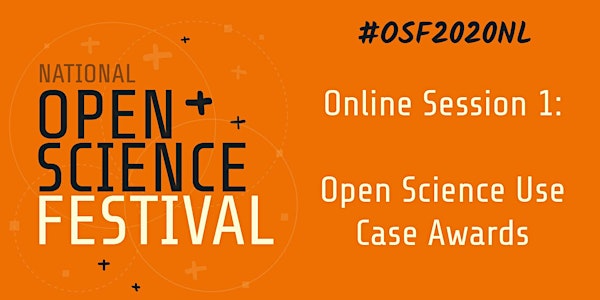 Online Session 1: Open Science Use Case Awards
This first #OSF2020NL online session is dedicated to the winners of the Open Science Use Case Awards.
Over dit evenement
The current COVID-19 situation has led us to the decision that #OSF2020NL will not take place on 27 August 2020. We are currently in the process of rescheduling the Open Science Festival to February 11th, 2021.
In order to keep in touch with all interested in Open Science developments in the Netherlands, we will additionally organise five online sessions in the months leading up to the Festival.
This first online session is dedicated to the winners of the Open Science Use Case Awards.
Agenda:
15.00 - 15.25: virtual walk in
15.30 - 15.45: National open Science Coordinator Prof. ir. Karel Luyben and Prof. dr. Isabel Arends will introduce this session.
15.45 - 16.30: Three parallel sessions:
Breakout 1
Moderator: Jeroen Sondervan
A webtool for interactive data visualization and data sharing
Joachim Goedhart Przemek Krawczyk and Martijn S. Luijsterburg
Open science and open data for human factors research
Pavlo Bazilinskyy and Joost de Winter
Breakout 2
Moderator: Carlos Martinez
Open science practices in Majorana research
André Melo, Sebastian Rubbert and Anton Akhmerov
cBiT: The Compendium for Biomaterial Transcriptomics
Dennie Hebels and Jan de Boer
Breakout 3
Moderator: Melanie Imming
Student Initiative for Open Science (SIOS)
Myrthe Veeman, Karoline Huth, Maike Dahrendorf and Lea Schumacher
Studies of Populations of Individual Birds (SPI-Birds) Network and Database
Antica Culina
16.30 - 16.45: Taking the use cases forward and virtual Open Science Awards
16.45 End of meeting followed by virtual drinks.
We have limited number of seats, the first 75 registrants will be guaranteed a place. Please cancel your registration as soon as you know you cannot attend.
We will be using Zoom to host this virtual event. The version of Zoom you need is free, but you will need to sign up and download the Zoom desktop app (either Windows or Mac) to take part in this virtual event.
There are also iOS and Android apps that work well, but we recommend that for this virtual event you use a desktop version of Zoom if possible.
We suggest you install Zoom on a personal device if the organization you work for prohibits the download of non-authorized software to your company device.
RECEIVING AN INVITE TO A ZOOM MEETING
You will receive your invite to this virtual event by email (two days before the virtual event) which will include a link that looks like this:
https://zoom.us/j/0000000000 [THIS IS NOT THE LINK]
Click the link and you will be taken straight through to the meeting.
You may be held in a waiting room for a few minutes before being let into the main room.