Dit evenement is afgelopen.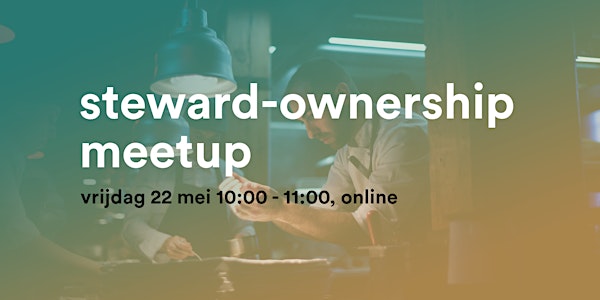 Online steward-ownership meetup
Beschrijving
Ben je benieuwd of steward-ownership iets voor jouw onderneming is? Doe dan mee!

Over dit evenement
We gaan met een Nederlandse pionier en deelnemers in gesprek over wat steward-ownership is, hoe het werkt en wat de impact is op het succes van je onderneming. In een uurtje ben je helemaal up to date over deze nieuwe vorm van eigenaarschap voor duurzame en sociale ondernemingen.

Steward-ownership

Steward-ownership is een manier om eigendom van een bedrijf vorm te geven. De kern van steward-ownership is dat een bedrijf 'van zichzelf' is en bestaat om zijn missie (purpose) te dienen. Steward-ownership is de beste manier om de missie van een bedrijf te borgen.

Steward-ownership is nog relatief onbekend. Toch zijn er - ook in Nederland - een aantal bedrijven die 'steward-owned' zijn. Een jonge pionier is Hans van de Broek van surfschool en strandtent The Shore uit Scheveningen. Tijdens de meetup zal Hans zijn ervaringen delen en vragen van deelnemers beantwoorden.
Programma
Introductie over wat steward-ownership is en hoe het werkt
Presentatie van Hans van den Broek over zijn motivatie om The Shore steward-owned te maken en de impact op het succes van zijn bedrijf
Q&A
We Are Stewards
De meetup wordt georganiseerd door We Are Stewards. Ons doel is om steward-ownership in Nederland op de kaart te zetten. We helpen ondernemers en investeerders om met steward-ownership hun impact te maximaliseren.