Dit evenement is afgelopen.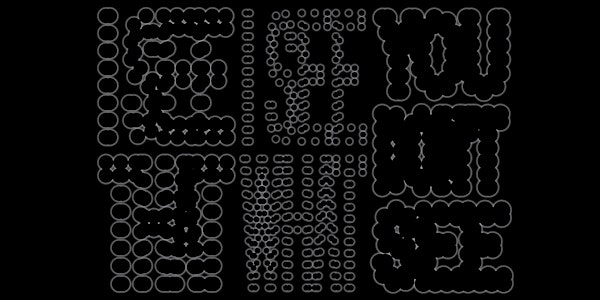 Opening Night at Het Nieuwe Instituut
Door Het Nieuwe Instituut
Datum en tijd
za. 12 okt. 2019 18:00 - 22:45 CEST
Locatie
Het Nieuwe Instituut 25 Museumpark 3015 CB Rotterdam Netherlands
Beschrijving
On October 12, 2019, the exhibition I See That I See What You Don't See and the installations Animal Encounters and Spirits in the Material World will open in Het Nieuwe Instituut. At the outset of the cultural year, Het Nieuwe Instituut selects a range of possible perspectives on architecture, design and digital culture that are rich in content and never predictable.
With a live performance by

Zwart Licht,

presentations by Codarts, House of G.H.O.D. and dj Emma Champagne Queen.



I See That
I See What
You Don't See
There are few places in the world that are as light as the Netherlands – night and day. Energy, technology and data flows have become the essential fuels for a 24-hour production landscape that is totally geared to efficiency and profit. This rational landscape does not seem to care much for the natural rhythms of day and night, activity and rest. To see a clear, starry sky, we must look elsewhere. I See That I See What You Don't See discusses the complex relationship between light and darkness – between seeing and not seeing – and its effects on people, other organisms and the earth.

I See That I See What You Don't See was the official Dutch contribution to the XXII Triennale di Milano earlier this year. A new staging by Olivier Goethals and Rudy Guedj, which also includes Aldo van Eyck's contribution to the 1968 Triennale, features works by Ramón Amaro, Melvin Moti, Marjolijn Dijkman, Bregtje van der Haak, Lucy McRae, Leanne Wijnsma, Danilo Correale and others.
Animal Encounters
Through a spatial installation, Studio Ossidiana explores how architecture might mediate between all sorts of creatures, making room for a variety of encounters and setting the stage for interactions between humans and non-humans.
On the basis of both new work and relevant archive selections from the National Collection for Dutch Architecture and Urban Planning the different relationships between the world of animals and humans are made visible, from parrot perch to ecosystem.

Animal Encounters is the successor to Habitat: Expanding Architecture, and part of the Total Space project by the Jaap Bakema Study Centre, exploring interdisciplinary exchanges between the fields of architecture, urban planning, anthropology and systems theory.
Spirits in the Material World
Spirits in the Material World explores a sphere of architecture that is not easily explained or understood—the relationship between the spirit and material worlds. Conceived by artist Heman Chong, the installation and public programme reflect on spaces that exist in the darkness, the slippages into the netherworld.

With the help of a bookstore, a series of films and a video artwork, Chong demonstrates how certain chains of events can convince people that a place is somehow 'haunted'. The supposed presence of ghosts, in turn, can develop into an unpredictable break on the real estate market in cities like Hong Kong, New York and Dubai. Rumours, ghostly manifestations, big money and real estate converge, lending the architecture of contemporary housing an imaginary beyond-the-human dimension, resulting in a market that escapes all presumed logic.
Symposium:
What You Don't See
12 October, 14:00-18:00

The What You Don't See Symposium takes place prior to the opening of I See That I See What You Don't See. The symposium brings together artists, designers, researchers, scientists, poets and theoreticians to reflect on the influence and potential of darkness: from dark matter to blackness, from blackouts to burnouts, from day to night, from microbes to stars. This symposium views darkness – usually seen as a mere lack of light – in the context of its intrinsic relationship with the economy, health, technology and culture.

Confirmed speakers are Dele Adeyemo, Ramon Amaro, Andrei Bocin-Dumitriu, Marjolijn Dijkman, Eline Ex, Bert van der Horst, Melvin Moti, Paolo Patelli, Claudia Rot, Helga Schmid, Dirk Sijmons, Leanne Wijnsma and Agnieszka Wolodsko.
Over de organisator
De huidige tijd wordt gekenmerkt door radicale technologische, economische, culturele en sociale veranderingen. Het Nieuwe Instituut wil deze veranderende wereld in kaart brengen en zichtbaar maken en tegelijkertijd de discussie hierover bevorderen voor zowel het professionele ontwerpveld als een breder publiek.