Dit evenement is afgelopen.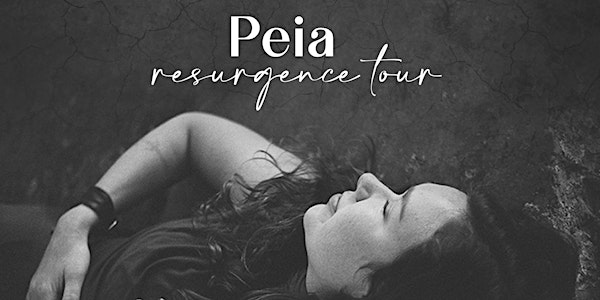 Peia :: in Concert @Vondelkerk Amsterdam
Ancestral Songkeeper and multi instrumentalist Peia Live in Amsterdam :: Resurgence Tour 2022 :: Ceremonial Concert
Waar en wanneer
Datum en tijd
Begint op do. 25 aug. 2022 19:30 CEST
Locatie
Vondelkerk Amsterdam Vondelstraat 120 1054 GS Amsterdam Netherlands
Beleid voor refunds
Geen refunds
Over dit evenement
HeartFire.nl presents Peia Resurgence Tour 2022 :: Live in Amsterdam
Ceremonial Concert :: 25th August 2022 @Vondelkerk Amsterdam
(also availabe Vocal Workshop on 26th August 2022 @De Ruimte Amsterdam, see here for tickets).
Such a gift that Archival Song Keeper, writer and multi-insumentalist Peia will be back in Amsterdam for a concert (August 25th) and a vocal workshop (August 26th).
Ticketsales for both concert and vocal workshop starts June 3rd 2022 at 10:00 CET.
Peia's voice is touching the depths of your soul and will sparkle your heart and nourish your body. Music and Prayer as Medicine. Blessed we are that she is back in Amsterdam after five years! She decided to stop touring for a while to focus on other beautiful projects so this is your chance to experience Peia live. She will bring amazing musicians as well. Liron Meyuhas on percussion and a double bass player. Don't wait too long to buy your tickets!
More info about the concert (on August 25th): https://heartfire.nl/events/peia-ceremonial-concert-resurgence-tour-vondelkerk-amsterdam-20220825/.
Find all infomation about her workshop Songs of the Ancients on our website: https://heartfire.nl/events/peia-ceremonial-concert-resurgence-tour-vondelkerk-amsterdam-20220825/.
About Peia Luzzi
Peia Luzzi is an American born song collector, writer and multi-instrumentalist based in the mountains of Southern Oregon. Like water from a deep well, she draws inspiration from her ancestral roots of Celtic and Old World European folk music. With the voice of a lark, Peia dances nimbly from Child Ballads and 17th C. Gaelic laments, to Waulking Songs, and Bulgarian mountain calls. She has traveled extensively over the past 10 years to uncover melodies wrinkled and wise with time, laboring to honor their language and stories, while bringing a piece of herself to each song she carries.
A powerful voice in the rising global community of people who are committed to restoring a balanced relationship with the Earth, Peia expresses her holistic vision and passion through her music, educational workshops and advocacy for social and environmental rights groups.
Peia's revolving collaborative ensemble weaves in rich vocal harmonies, driving percussion, and intricate guitar work, together with her own instrumentation on charangon and harmonium to create lush, organic soundscapes. Her mesmerizing performances offer authentic re-imaginings of traditional musical treasures, along with a stunning repertoire of her own original songs.