Dit evenement is afgelopen.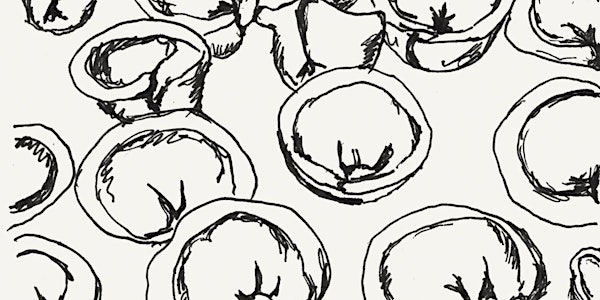 Pelmeni: A Cooking Conversation
Event in the framework of the exhibition: Bottleneck by Katerina Sidorova
Waar en wanneer
Locatie
West Den Haag 102 Lange Voorhout 2514 EJ Den Haag Netherlands
Kaart en routebeschrijving
Over dit evenement
Together with artist Vlada Predelina, guests will cook pelmeni, known as a Russian national dish. This is part of a longer-term project that looks into the origins of pelmeni from the semi-nomadic Uralic hunters' sustenance to their present status as a national dish of Russia. The name originates from the Udmurt language: pel' nyan' meaning 'ear bread'. Using them as a listening tool, we will open up discussions about unwritten histories, knowledges and their meaning in the current context.
Vlada Predelina
Born in 1991, Ekaterinburg, Russia, Vlada Predelina lives and works in Rotterdam (NL) and London (UK). Her work looks into the meaning of home and sense of place through a range of mediums such as the collective making of food, natural dyes, bioplastics, ceramics and documenting uses of native plants alongside intimate discussions and situated histories. Currently undertaking MA in Fine Arts at HKU University of the Arts, Utrecht where she is researching the role of tacit knowledges of women in relation to land and colonial expansion.
Since 2020 she has been working as part of Eathouse collective. This is an artist collective initiated to provide healthy affordable food, a generous meeting point and workshops on the topics of food culture, gathering and sustainable ways of living, with three other artists: Jake Caleb, Merve Kılıçer and Ulufer Çelik.
+ The screening of Milo Rau's documentary 'The Moscow Trials'. The film sheds light on the political trials that sheds light onto the political trials that were held against activists in the summer of 2012.
Reserve your seat at the table including a free meal
-----
NL
Samen met kunstenaar Vlada Predelina koken de gasten pelmeni, een Russisch nationaal gerecht. Dit maakt deel uit van een langetermijn project dat de oorsprong van pelmeni onderzoekt, van het voedsel van de semi-nomadische Oeralische jagers tot hun huidige status als nationaal gerecht van Rusland. De naam is afkomstig uit de Oedmoertse taal: pel' nyan' wat 'oorbrood' betekent. Door middel van pelmeni, openen we discussies over ongeschreven geschiedenissen, kennis en hun betekenis in de huidige context.
Vlada Predelina
Geboren in 1991, Jekaterinburg, Rusland, is Vlada Predelina woonachtig en werkzaam in Rotterdam en Londen. Haar werk richt zich op de betekenis van het 'thuis', door een scala aan mediums zoals collectief koken, natuurlijke kleur- en verfstoffen, bioplastic, keramiek en het documenteren van inheemse planten en hun gebruiken, naast intieme gesprekken en het gesitueerde verleden. Momenteel volgt ze de MA Fine Arts aan Hogeschool voor de Kunsten, Utrecht, waar ze de rol onderzoekt van verborgen kennis van vrouwen in verhouding tot land en koloniale expansie.
Sinds 2020 maakt ze deel uit van Eathouse collective. Dit is een kunstenaarscollectief opgezet om te voorzien in gezond en betaalbaar eten, als een ontmoetingsplek met workshops over onderwerpen als eetcultuur, samenkomst en duurzame leefstijlen, met drie andere kunstenaars: Jake Caleb, Merve Kılıçer en Ulufer Çelik.
+ Filmvertoning documentaire 'The Moscow Trials' van Milo Rau – deze film werpt licht op de politieke processen die werden gehouden tegen activisten in de zomer van 2012.
Reserveer nu je zitplaats en gratis maaltijd.