Beschrijving van het evenement
On Wednesday 3rd November, Carly Newsome – Program Manager for Power BI Goals – will talk about the value that Power BI Goals can bring.
Over dit evenement
Op woensdag 3 november staat de volgende avondsessie op het programma:
** Tijdens deze sessie is Engels de voertaal **
Power BI Goals is a data-driven, collaborative, and adaptable way to measure key business metrics and goals built directly on top of Power BI. It enables teams to easily curate business metrics that matter most and aggregate them in a unified view. From there, teams can measure progress against their goals, proactively share updates with their teammates, and dive deeper into their data when something needs further analysis.
Users can easily monitor the health of their business, bringing in data across multiple Power BI workspaces and create gorgeous scorecards to drive impact.
On Wednesday 3rd November, Carly Newsome - Program Manager for Power BI Goals - will talk about the value that Power BI Goals can bring to your team or organization. She will demo a walkthrough showing the key features and will show us how to use them to scale scorecards for enterprise use. At last, but not least: Carly will also give us a sneak preview of features that will be released soon and share some highly anticipated items on the roadmap.
To further improve Power BI Goals, Carly and her team are very open to all feedback. She has been working on Power BI Goals since its inception, though she started on the design team doing user research. This will be an unique opportunity to provide your feedback and to share your needs, expectations and experiences directly with the Product Team.
Outside of being excited about Goals, Carly lives in Seattle with her husband and dog, Indie, who happens to be a master at Harry Potter spells as tricks.  We love to do all the Pacific Northwest activities like snowboarding, hiking, and rock climbing.
After the session, around 21.00, you're also more than welcome to stick around for some social talk and to meet other members from the community.
The session will take place via a regular Microsoft Teams meeting. By signing up you give permission for your email address to be visible to the other participants. The session will be recorded and published on our YouTube channel. If you prefer not to be in the video, then please turn off your camera. Otherwise, please turn on your camera to increase the interaction and to show us your smile :-)
To keep the session manageable, please bear in mind that the number of tickets available are limited. So be quick and please register using this link. Once registered, you will receive an invitation link to the session no later than one hour before the start of the event.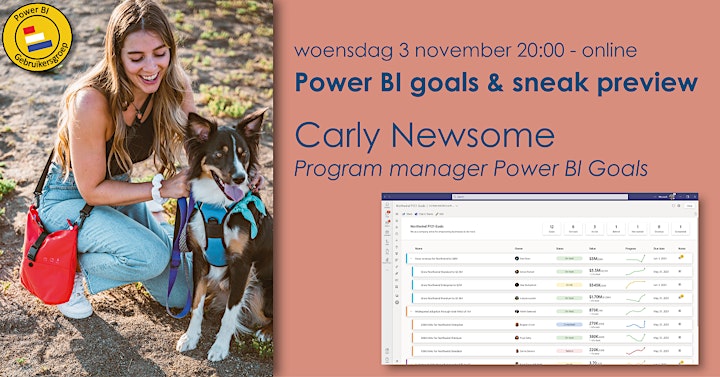 Organisator van Power BI Goals with Carly Newsome
Wij zijn de Nederlandse Power BI Gebruikersgroep. Wij zijn dol op deze nieuwe technologie en willen iedereen erovber vertellen, kennis delen en lol hebben. We hebben een LinkedIn groep: "Power BI Gebruikersgroep" en we organiseren evenementen. Tijdens onze bijeenkomsten proberen we Power BI en gerelateerde onderwerpen te bespreken, variërend van technische tips tot praktijkcases. We willen waardevolle informatie bieden voor iedereen: Ontwikkelaars, BI professionals, en Business Users.
Website: http://www.pbig.nl
We are the Dutch Power BI user group. We love this cool new technology and want to tell everybody about it, share knowledge and have fun. We run a LinkedIn group "Power BI Gebruikersgroep", and we organize events. In our meetings we try to cover Power BI related subjects, ranging from technical tips to practical business cases. We want to provide valuable information for Developers, BI Consultants and Business Users.