Locatie
De Waag
4 Nieuwmarkt
1012 CR Amsterdam
Netherlands
Restitutiebeleid
Neem contact op met de organisator om een restitutie aan te vragen.
Eventbrite-kosten zijn niet restitueerbaar.
We live in transitioning times. How can we prepare for the odd, alien and other? Artist Adriana Knouf will engage us in her practice.
Over dit evenement
During this workshop, we will practice learning from other (non-human) bodies and embracing the strange. We'll start by being with and among more-than-human entities in close proximity of the Nieuwmarkt. Adriana Knouf will provide inspiration for writing through site-specific explorations and prompts as well as how-to's for small scale sampling and intimate relating. We will finish with a collective dinner (bring your own) and sharing of our work. We hope you will stay over for the concluding presentation of Adriana at 20:00, where your writings will be woven into Adriana's talk.
It is also possible to join Adriana's concluding presentation without participating in the workshop. A ticket for only the presentation costs €5,- with a drink included.
Programme

16:50 - 17:00 Walk in

17:00 - 17:10 Welcome
17:00 - 18:15 Exploration - outdoor
18:15 - 19:00 Writing - indoor
19:00 - 20:00 Dinner & Sharing
20:00 - 21:00 Interactive presentation Adriana Knouf.
Participants of this workshop are welcome to also join the presentation, which is open to the general public, in which she will present some of the writings of the workshop, as well as exploring in more detail Adriana's work in this area.
We'll provide:
Writing tools and tasks
Inspirational perspectives

Clipboards, paper and pens

Coffee, tea and cookies

Please bring
An open and curious mind 

Your own diner

Rainproof clothes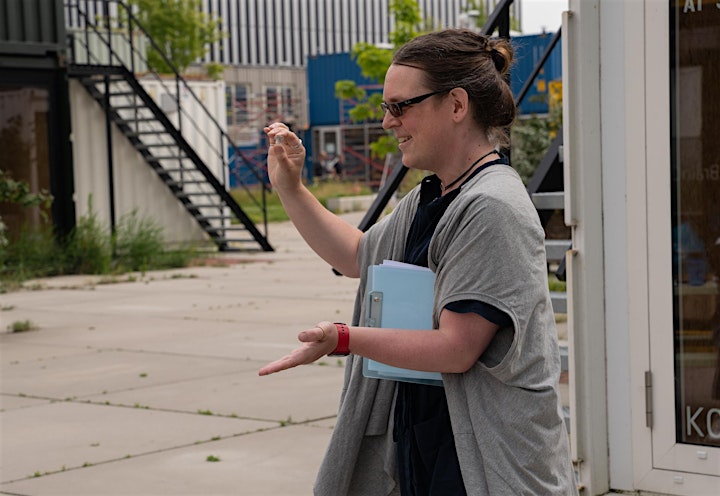 About the artist
Adriana Knouf (US) works as a xenologist, artist, scientist, writer, designer and engineer. Adriana has a PhD in Information Science from Cornell University, an SM in Media Arts and Sciences from the Massachusetts Institute of Technology, and a BS in Engineering and Applied Science from the California Institute of Technology. At Waag, Adriana Knouf works in the ART4MED project, which aims at connecting the arts and the medical sector.
Images: Speculative writing workshop with Adriana Knouf and Esmee Geerken
Photos by Florian Geerken