Dit evenement is afgelopen.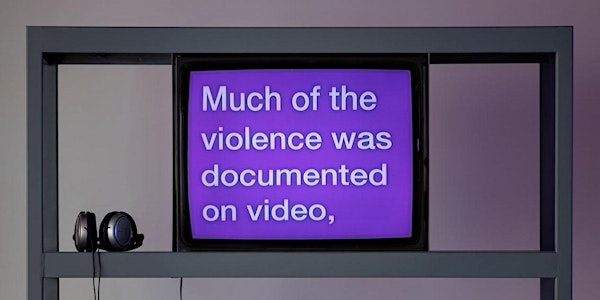 Public Studies: Practice as Theory (online)
A two-day workshop with artist Tony Cokes, in the framework of exhibition Tony Cokes: To Live as Equals.
Waar en wanneer
Locatie
BAK, basis voor actuele kunst 13A Pauwstraat 3512 TG Utrecht Netherlands
Kaart en routebeschrijving
Beleid voor refunds
Neem contact op met de organisator om een restitutie aan te vragen.
Eventbrite-kosten zijn niet restitueerbaar.
Over dit evenement
As a part of the exhibition Tony Cokes: To Live as Equals, the artist presents a two-day online workshop investigating critical themes that circulate through his work, and various intersections with and applications of forms of the theoretical. Topics include frameworks of ideology, violence, representation, critique, and image production, as examined through Cokes's videos, and many of the writers and thinkers he sources from, including the Situationist International, Louis Althusser, Our Literal Speed, and others. The workshop will examine the uses and limits of theory in critical practice, and the ever-shifting idea of what it means to be critical.
Monday 19 October, 18.00–21.00 hrs CET
On the representation of violence, mass movements, and riots. This day will draw on the works Black Celebration (1988), Fade to Black (1990), and shrinking.criticism (2009), alongside the texts "Ideology and Ideological State Apparatuses…," and "The Decline and Fall of Spectacle Commodity Society" by Situationist International, and "The Decline and Fall of Art Criticism" by Julian Stallabrass.
Tuesday 20 October, 18.00–21.00 hrs CET
Why produce another image? This session explores the proposition of video as a non-representational media, and alternate conditions that could produce different forms of legibility. Works discussed include Evil.27: Selma, (2011) , Evil.8 (Unseen), (2004), and Before & After The Studio Pt. 2 (2019), along with two related texts from Our Literal Speed and other sources.
Participation:
This is a two-day workshop, it is not possible to apply for individual days.
Language: English
Tickets:
Regular Ticket: €30
Student Ticket: €20
Solidarity tickets: BAK provides a few free places for those who would otherwise not be able to attend. To apply, please send a short explanation of why you would like to join and your resason for applying for a feewaiver (max. 120 words) to publicstudies@bakonline.org (first come, first serve).
/// credit image: Tony Cokes, B4 & After the Studio Pt. 1, 2019, installation view, BAK, basis voor actuele kunst, Utrecht, 2020, photo: Tom Janssen