Dit evenement is afgelopen.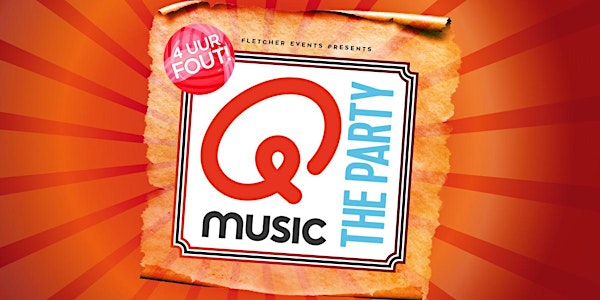 Qmusic the Party XL - 4uur FOUT! in Heiloo (Noord-Holland) 09-04-2022
Qmusic the Party -4uur FOUT! XL komt naar Heiloo!
Waar en wanneer
Locatie
Fletcher Hotel-Restaurant Heiloo Kennemerstraatweg 425 1851 PD Heiloo Netherlands
Kaart en routebeschrijving
Beleid voor refunds
Geen refunds
Over dit evenement
Fout, fouter, foutst. Maar zo lekkerrr!! Dat is de muziek tijdens Qmusic the Party XL in Heiloo. 4 uur lang wild feesten met hits die net zo vast in je geheugen staan, als in de hitlijst van Qmusic's Foute Uur. Met je cowboyboots countryhousen op Cotton Eye Joe om vervolgens onderdak te zoeken bij The YMCA, samen met een indiaan, een cowboy en nog een paar vreemde vogels. De DJ's van Qmusic  trekken je onweerstaanbaar mee in een warm bad vol guilty pleasures.  En jij geniet je stiekem helemaal suf met je prachtige verentooi, je stoere cowboyhoed of je... nou ja, dat vul je zelf vast wel lekker fout in.
Special guest: Nakatomi
Wat zijn de nineties zonder Nakatomi? Met Happy Hardcore hits als Children of the night en Sing stonden ze jarenlang op high rotation bij de grote radiostations. Dankzij de nineties revival van vandaag zijn ze weer hot in bars, clubs en… tijdens Qmusic the Party XL. Waar hun live show, met originele zangeres Angela Vergouwen, je weer ouderwets in euforie brengt.
Kijk voor al onze muziek evenementen op www.fletcherevents.nl
Feestkleding en Confetti!
Ga volledig in stijl en scoor bij www.confettifeest.nl jouw ultieme party outfit! Van Feest accessoires, disco blouses tot complete kostuums die jouw avond onvergetelijk maken. Wij maken graag jouw avond compleet en ontvang met de code CONFETTI-PARTY maar liefst 10% korting op jouw bestelling!