Dit evenement is afgelopen.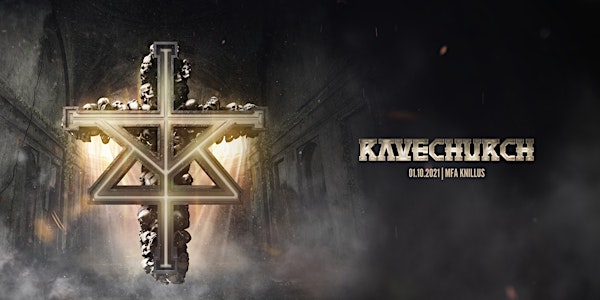 Ravechurch 2021 | Let's Pray Again!
Hard dance music in a church, partying without distance and this year is going to be bigger than ever.
Waar en wanneer
Locatie
MFA Knillus Sint Cornelisstraat 18 5827 AL Vortum-Mullem Netherlands
Kaart en routebeschrijving
Beleid voor refunds
Neem contact op met de organisator om een restitutie aan te vragen.
Eventbrite-kosten zijn niet restitueerbaar.
Over dit evenement
The churchdoors will be open again. We have been quiet long enough, but now is the time again for all of us to go full force. This year we will return bigger than ever on Friday the 1st of October with a new edition of Ravechurch. 2 different areas & more than 15 different artists ranging from (classic) hardstyle to uptempo hardcore will make sure we will be back as we used to be! Ravechurch is an indoor event, without 1.5 meters distance.
// 𝐅𝐔𝐋𝐋 𝐋𝐈𝐍𝐄-𝐔𝐏
< AREA 01 >
Cryex
Voidax
The Pitcher X Slim Shore
Jones
Flux Overload
Hosted by: MC Activate
< AREA 02 >
Vyral X D-Verze | Decade of Spoontech
Shockrage X Infirium | Decade of Spoontech
Distinction: Fear Less Live
Unlocked
Conspirator
Kozorog
Hosted by: MC Barricade
// 𝐄𝐕𝐄𝐍𝐓
-> https://bit.ly/Ravechurch2021Event
// 𝐂𝐎𝐕𝐈𝐃-𝟏𝟗 𝐈𝐍𝐅𝐎𝐑𝐌𝐀𝐓𝐈𝐎𝐍
You have access to Ravechurch when you can show a valid QR code. This is provided when you have been fully vaccinated or when you have been tested (test must not have been taken less than 48 hours ago)
// 𝐌𝐈𝐍𝐈𝐌𝐔𝐌 𝐀𝐆𝐄
The minimum age will be 16, this will be monitored. Alcohol will be served from the age of 18.