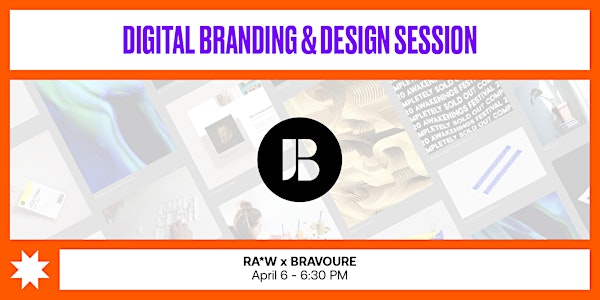 RA*W x Bravoure | Let's get digital
Our 2nd agency session will take place on April 6. Get ready to feast your eyes on some seriously clean digital branding & design knowledge!
Datum en tijd
do. 6 apr. 2023 18:30 - 22:00 CEST
Locatie
Oosteinde 23 23 Oosteinde 1017 WT Amsterdam Netherlands
Beleid voor refunds
Neem contact op met de organisator om een restitutie aan te vragen.
Eventbrite-kosten zijn niet restitueerbaar.
Over dit evenement
About Bravoure
Bravoure is a digital design agency. Their mission is to help brands become more human in the digital area💜 Bravoure believes that brands that think and operate digital-first can make the greatest impact. With a large portfolio of cultural organizations like ADE, Paradiso, Moco Museum and Awakenings, the team of Bravoure helps them grow their digital footprint. This team consists of 30+ strategists, creatives, developers and project managers.
Branding & design session
Get ready to feast your eyes on some seriously clean digital design knowledge! Design Director Jeroen Disch, Creative Simon Sitanala and Strategist Laurien Maerman will take you by the hand on your first steps in Digital Branding & Design🚀
The future of digital branding is rapidly evolving as technology continues to advance and consumer behavior shifts. In today's digital age, brands that fail to adapt to digital technologies risk being left behind by competitors.
Meaning, any 'good' design will make any brand easier, prettier, more fun, and yes…probably a little better even! But for any brand to succeed in the long run, they are in need of a future proof, digital experience*💥
Bravoure will give an inspiring session on the fundamentals of crafting a killer digital brand experience, complete with an inspiring case study (to be announced👀) to get your creative juices flowing.
*It's the sum of all the online interactions people have with a brand. From their website and social media to AR & AI-driven experiences, every touchpoint is somehow connected, and equally important for future success.
The program
18:30-19:00 Walk-in and grab some pizza🍕
19:00-19:45 Introduction of RA*W & Bravoure
19:45-20:00 Short break
20:00-21:00 Digital branding & design session
21:00-22:00 Drinks!
Practical
For who is the workshop? Anyone who is graduating or already employed (0-5 yr) and interested to learn more about digital branding and design.
When is the workshop? April 6, 18:30 @ Bravoure (Oosteinde 23, 1017 WT Amsterdam)
Tickets? €5 (excluding transactional costs)
Also, nice to know, we will be donating all proceeds of the tickets to charity.
Over de organisator
RA*W is er voor jong (account/strategie) reclametalent om te leren van de reclame-industrie en elkaar.