Dit evenement is afgelopen.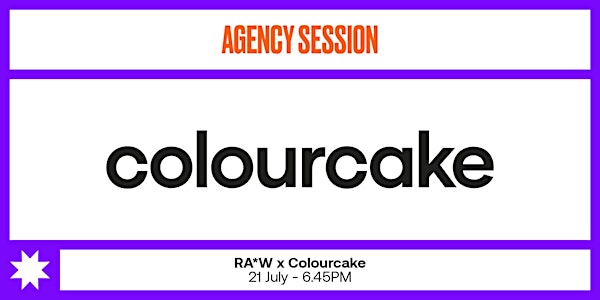 RA*W x Colourcake| Branding session @ Colourcake
Join us for the upcoming RA*W Session on July 21, this time with creative agency Colourcake!
Waar en wanneer
Locatie
Danzigerkade 15a5 15a5 Danzigerkade 1013 AP Amsterdam Netherlands
Kaart en routebeschrijving
Over dit evenement
Join us for the upcoming RA*W Session on July 21, this time with creative agency Colourcake!
About Colourcake
Colourcake is based in the Houthaves hub in Amsterdam with a team of twenty 'Cakies' (and growing!). They use rapidly changing environments as inspiration and motivation to create and communicate brands and provide expertise in areas of branding, content and print. Most of their clientèle are brands within the fashion, lifestyle and hospitality industry,
Colourcake's team of creatives and visionaries create for clients big, small, and every size in-between. Nike, Puma, Gorillas, Sidestep, Tommy Hilfiger, Pink Gellac Mizuno are just a few examples of the brands they provide their expertise to.
Branding Session
Creative agency Colourcake will host a workshop about their core business: Branding. By attending this workshop you will get a glimpse of what their branding sessions with clients look like. Next to that you'll get a taste of; how a good brand purpose can not only boost revenue but also loyalty, user personas and how colours can have an impact on brands' and products' "personalities".
All in all, a packed and colourful session! 🚀
The session will be a workshop format where creative directors Ischa Moonen and Sjoerd Bongertman will help you answer questions such as why branding is important & what a brand strategy is.
The Program
18:45-19:00 Walk-in & grab a drink and a chair
19:00-19:45 Introduction of RA*W & Colourcake
19:45-20:00 Short break
20:00-21:00 Branding workshop Colourcake!
21:00-22:00 Drinks!
Practical
For who? Anyone who is graduating or already employed (0-5 yr) and interested to learn more about Branding.
When? July 21, 18:45 @ Colourcake (Danzigerkade 15a5, Amsterdam)
Tickets? For free! Limited tickets available.