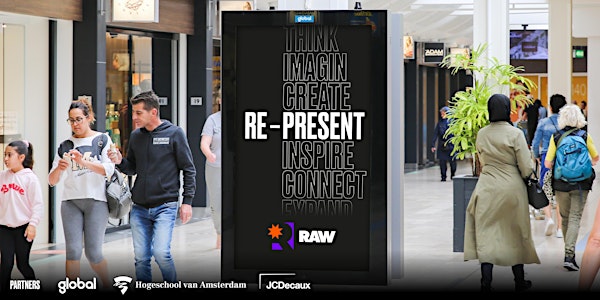 RA*W x HvA x Global | RE-PRESENT: Digital Out-of-Home challenge 2.0
Locatie
HvA – Master Digital Design Studios
2 - 4 Wibautstraat
1091 GM Amsterdam
Netherlands
RA*W x HvA x Global presents: Kick-Off for RE-PRESENT – Digital Out Of Home Challenge
Over dit evenement
Join us for the kick-off of RE–PRESENT. Three experts and professionals will share insights, expertise and ideas on topics such as diversity, equity, inclusion and other aspects that that relate to the theme; representation.
Everyone creative under 30 years old can join the kick-off and participate in the challenge. The three winners will be visible throughout the whole country on more than 3,000 digital screens. This year we're organizing the out of home challenge with our friends Global Media & Entertainment, Hogeschool van Amsterdam and JCDecaux.
Looking forward to seeing you there!
Note that the deadline for your work is set on June 30th. Can't attend the kick-off session? No worries! You can send in work by WeTransfer'ing your creation + related information to hi@we-are-raw.com
About RA*W
We are RA*W - a non-profit organisation based in Amsterdam. RA*W offers a platform for young talent to develop their careers and themselves. Are you a student or a starter with 0 - 5 years of experience? Come join our community of ambitious young talent in the Dutch creative industry. The RA*W community is open to everyone: just follow our social channels and you're in! Our industry can be a tough one to get into, with different aspects often remaining unknown when you're just starting out. That's why we educate students on what the advertising industry entails and offer them a pathway into the creative industry. We help young professionals to further develop their skill set as they progress in the field.