Dit evenement is afgelopen.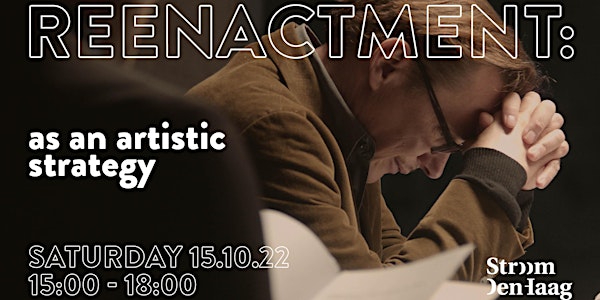 Reenactment – as an artistic strategy
Reenactment: Seminar on reenactment as artistic strategy. The program features contributions by filmmaker Didem Pekün, artists Bassem Saad
Waar en wanneer
Locatie
Stroom Den Haag 1-9 Hogewal 2514 HA Den Haag Netherlands
Kaart en routebeschrijving
Over dit evenement
This seminar explores reenactment as an artistic strategy, particularly in relation to the staging of acts of state violence. It seeks to bring together artists and cultural practitioners who are working on reenactment of historical events, in order to exchange knowledge and tools. Starting point for this program is the presentation of the new video work grounds for denial by Anna Dasovic, momentarily on view at Stroom Den Haag.
The program will feature the following contributions:
- Film Disturbed Earth* by Didem Pekün addressing the ineffectiveness of the diplomatic and military apparatus at preventing the massacres at Srebrenica;
- Staged reading by Bassem Saad and Sanja Grozdanic, who revisit monumental historic accounts such as those of the International Criminal Court and NATO;
- Presentation by Maksym Rokmaniko from the Center for Spatial Technologies on their current investigation reconstructing the moment of the missile hit of the Mariupol Theater on 16 March 2022.
* Stroom would like to voice its concern for the freedom of speech of independent storytellers whose lives and livelihoods are at risk, by dedicating this program to Turkish journalist and filmmaker Cigdem Mater, co-producer - with Didem Pekün - of 'Disturbed Earth'.
Saturday 15 October 2022, 15:00 - 18:00 hrs
Entrance free
Language: English
This program is made possible by the generous support of the City of The Hague. The presentation of 'grounds for denial' is a collaboration with the Hartwig Collection | Presentation Fund.