Dit evenement is afgelopen.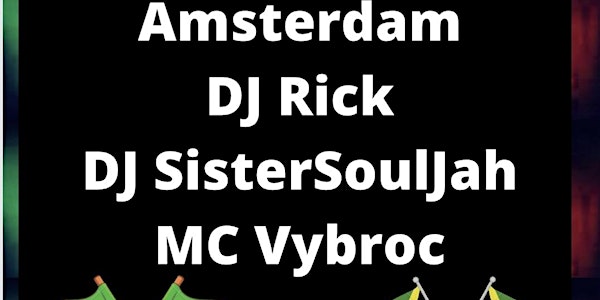 Reggae BEATZ
Jamaica Lounge "The best Jamaican Vibes in town." DJs laten ons bewonderen in een vijf uur durende liveset, Reggae en Afro Beat
Waar en wanneer
Locatie
Jamaica Lounge 117 De Clercqstraat 1053 AJ Amsterdam Netherlands
Kaart en routebeschrijving
Beleid voor refunds
Neem contact op met de organisator om een restitutie aan te vragen.
Eventbrite-kosten zijn niet restitueerbaar.
Over dit evenement
Door vijf uur lang te knallen, met de mooiste tracks, gaan we die vijf uur lang crazy lekker beleven. Tot het eind van de show alleen maar GOOD VIBEZ!
The Reggae BEATZ Party staat voor een avond gevuld met de smakelijke heerlijke Reggae en afro beats. De MC laat ons beleven de spetterende live act en we gaan genieten van Reggae hoe de Reggae bedoeld is, met de aanstekelijke energie van de MC!!! Dit is een feest die je niet mag missen!!!
MC Vybroc
Singer/Song writer Shiloh Ceesay best known as Vybroc was born on 14th February in The Gambia, West Africa.
Vybroc found his love for Reggae/Dancehall music although he was exposed to other genres of music. He found inspiration from artists such as Bob Marley, Beres Hammon, Buju Banton, Sizzla and Turbulance.
Vybroc started singing/Deejaying around family and friends but never had the chance to do any studio recordings at that time despite having numerous of written songs. He found that people loved and related to his songs and always received positive energy from any gathering he performed at. In early 2001, Vybroc came to Birmingham, England where he started to take his musical career seriously and started networking and met other UK based artists and record producers and started recording his material.
He released a single called 'The Land' in 2013 with another Birmingham based artist which gave him more recognition and exposure both in the UK and The Gambia.
Vybroc has a rapid fan-base spreading across the world and is working towards the release of his debut album.
DJ Rick,
DJ , Club/Dance Reggae en Afro Beat,
Rick is een allround DJ, maar dat zijn er velen. Rick zijn specialiteit is een Caraïbisch feestje bouwen en de gasten lekkere latin, soca, afro, global, salsa, dancehall en aanverwante stijlen voor te schotelen. Rick weet de hits van nu te combineren om er een geweldige Reggae BEATZ party van te maken!!!
Als resident DJ bij festivals zoals o.a. Kwaku, Antilliaanse Feesten (België), Reggae Lake en Dias Latinos, draait hij net even anders dan de gemiddelde DJ.
Zeker weten DJ Rick gaat deze avond ervoor zorgen dat wij allemaal uit ons dak gaan met zijn heerlijke reggae en Afro beat muziek!
Dj Sister SouljJah