Dit evenement is afgelopen.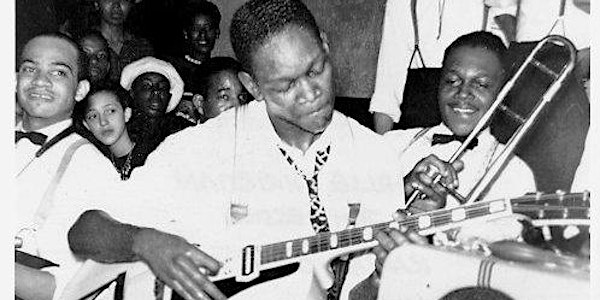 Remembering Charlie Christian!
Waar en wanneer
Locatie
Koorenhuis 27 Prinsegracht 2512 EW Den Haag Netherlands
Kaart en routebeschrijving
Beschrijving
This year, 2016 we celebrate the life and times of Charles Henry "Charlie" Christian (July 29, 1916 – March 2, 1942).
Daniel Slaman Guitars will contribute to Charlie's 100th birthday year by organising a concert 'Remembering Charlie Christian' on the 3rd of June, 2016 in The Hague, Netherlands. Musicians will be jazz guitarist and teacher Axel Hagen, guitarist and historian Adrian Ingram from Great Britain, Noah Nicoll on bass and Dick Verbeek on drums. The guitarists will play on instruments from the Commemorative Charlie Christian serie built by Daniel Slaman Guitars in the tradition of the guitars that Charlie made famous, like the ES-150 and ES-250 models. Jazz guitar maker Daniel Slaman will open the evening with a short introduction, talking about his guitars and the connection to Charlie Christian. Two sets of 45 min will be played, remembering this revolutionary guitarist and musician.The concert is in downtown The Hague at the Koorenhuis, Prinsengracht 27.
Christian was an important early performer on the electric guitar, and a key figure in the development of bebop and cool jazz. He gained national exposure as a member of the Benny Goodman Sextet and Orchestra from August 1939 to June 1941. His single-string technique, combined with amplification, helped bring the guitar out of the rhythm section and into the forefront as a solo instrument.
Veelgestelde vragen
Wat zijn de vervoers-/parkeermogelijkheden voor het evenement?
Paid parking space is limited. It is strongly advised to travel by tram, line 3, 2, 4 and 6 all have stops at either Brouwersgracht or Grote Markt (1 minute walk to The Koorenhuis). All of these lines go from The Hague Central Station to the Koorenhuis in 5 minutes travel time.

Wat mag ik wel/niet meebrengen naar het evenement?
No recording or video equipment. Please limit the use of flash photo's.

Waar kan ik de organisator bereiken als ik vragen heb?
Daniel Slaman Guitars

daniel@slamanguitars.com and gtrmusic57@gmail.com
Is mijn registratie/ticket overdraagbaar?
Yes

Moet ik mijn ticket afgedrukt meenemen naar het evenement?
Yes,no admittance without it.

De naam op de registratie/het ticket komt niet overeen met die van de bezoeker. Is dat OK?
Yes