Dit evenement is afgelopen.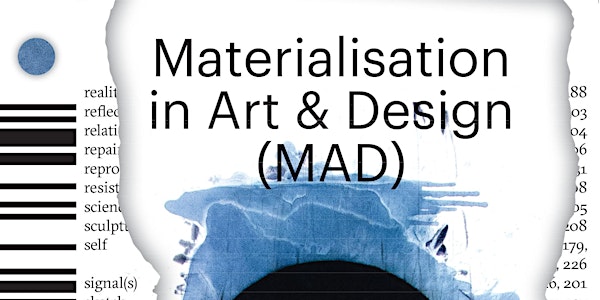 Sandberg Series #4 - Materialisation in Art & Design (MAD)
Waar en wanneer
Locatie
Het Nieuwe Instituut Museumpark 25 Auditorium 3015 CB Rotterdam Netherlands
Kaart en routebeschrijving
Beschrijving
MAD invite you to explore its landscapes, by joining the Book Launch of Sandberg Series n.4: Materialization in Art & Design (MAD). During the programme, the authors will share reflections and perspectives about the experience collectively generated as part of the MAD Temporary Master Programme run at Sandberg Instituut. Be ready to experience presentations, conversations and performative acts, with a focus on fundamental notions, ranging from the nature of the workshop and of the tools and skillsets characterizing it, to what it means being a collective in contemporary times.
MAD – Materialisation in Art and Design has been one of the Temporary Master Programs, running at Sandberg Instituut from 2015 till 2017. The program, bringing together both artists and designers, challenged the conventional hierarchy between 'concept' and 'making' and between 'content' and 'process', by making the material expression of works paramount.
The de-skilling phenomenon characterizing Conceptual Art in the 20th century challenged the position of the virtuoso as well as the tools utilised by artists, guiding and influencing the outcome of the work at the earliest stages of the artistic process. Historically, as is often assumed, this did not lead to the de-materialization of the arts. The physical properties of the work remained a central part of the dialogue. Through emotion, visual surprise, spatial and haptic experiences, our (human) bodies continue to crave physical contact and input. When making things without prior knowledge of "the material", how should such naïve and potentially brutal behaviour be interpreted and what does it represent and generate?
The temporary master Materialization in Art and Design (MAD) investigated such typology of questions through multiple ways of working, on a permanent quest to (re)establish our relationship with "material" on both a personal and societal level.
As part of the MAD book, the authors reflect on the experiences generated through the lens of MAD. With contributions from the course directors, MAD alumni, and experts in the field, the book examines the position of the workshop within the art academy. By implication, it also reflects on the need for collective creative output in an increasingly individualised society, questioning the traditional frameworks characterizing art and design education.