Dit evenement is afgelopen.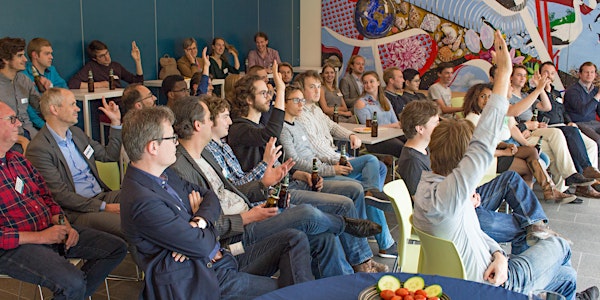 Science meets Business Cafe | December 2018
Waar en wanneer
Locatie
Biopartner 1 J.H. Oortweg 21 2333 CH Leiden Netherlands
Kaart en routebeschrijving
Beschrijving
Monthly Business Inspiration for Scientists
Every second Thursday of the month, Science meets Business (SmB) organises the SmB cafe. Three speakers that are highly involved with both science and business speak for an enthousiastic audience.
AUDIENCE
- Researchers
- Science enthousiasts
- Local (and not so local) entrepreneurs
- Students of all levels that are passionate about both science and business
PLANNING
17:00 - 17:30 -- Walk in
17:30 - 18:30 -- Presentations
18:30 - 20:00 -- Networking drinks


LINE-UP
One cell to change the world
Thomas Luining
Meatable makes 100% real, delicious, guilt-free meat. With one cell, we are revolutionizing the meat industry's impact on climate change and animal welfare. At the same time we increase food security, without compromising the culinary experience of eating tasty, real meat.
Cellular vesicles as Trojan horse to deliver gene therapeutics
Jeroen de Vrij

Cells of our human body secrete tiny vesicles, called exosomes, with powerful properties to deliver biological payload over long distances. ExoVectory (spin-out from the Erasmus MC, Rotterdam) uses unique packaging technology to load exosomes with therapeutic DNA. Proofs-of-concept have been obtained for cancer treatment, including deep delivery towards glioblastoma cells into the brain. Incredibly long DNA constructs can be delivered, including full genomes of cancer-killing (oncolytic) viruses. ExoVectory's ability to incorporate long DNA also opens unique opportunities in the field of genome engineering, enabling better delivery of molecular scissor tools, such as CRISPR-Cas. ExoVectory's mission is to translate its technology towards improved treatment of cancers and genetic diseases.
Check your bacteria and discover how your body is doing
Derek Butler

MyMicroZoo helps people to gain insight into their own bacterial gut content, the microbiota. The services provided by MyMicroZoo™ allow consumers to compare their gut bacteria with others and also to understand the effect changes in lifestyle, diet and sports activity have on the gut bacteria population.
Check sciencemeetsbusiness.nl for the most recent updates!