Dit evenement is afgelopen.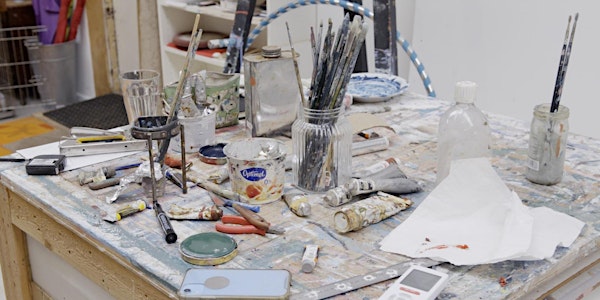 Screening + talk: V*KTV #3: STUDIO
Screening van de derde aflevering van V*KTV, dé webserie voor en door beeldend kunstenaars. #3: STUDIO gaat over ateliers en broedplaatsen.
Datum en tijd
di. 14 feb. 2023 20:00 - 22:30 CET
Locatie
Broedplaats SUP 35 Surinameplein 1058 GM Amsterdam Netherlands
Over dit evenement
ENGLISH FOLLOWS DUTCH
V*KTV is een broodnodige serie over de kunst van het ondernemen, de veranderende afzetmarkt, beschikbare werkruimtes en de dynamiek binnen het kunstenveld. Het brengt het persoonlijke verhaal van tien eigenzinnige kunstenaars in beeld, biedt op verfrissende wijze inzicht, en toont - uiteraard - kunst.
In aflevering 3 van V*KTV wordt het atelier onder de loep genomen. De beschikbaarheid van werkruimte voor beeldend kunstenaars staat continue onder druk. Hoe ga je daar als maker mee om? Welke mogelijkheden zijn er al, en wat kunnen we samen bewerkstelligen om de situatie te verbeteren? In V*KTV #3: STUDIO komen er kunstenaars met uiteenlopende ervaringen aan het woord. Op 14 februari lanceren we de aflevering in 𝘽𝙧𝙤𝙚𝙙𝙥𝙡𝙖𝙖𝙩𝙨 𝙎𝙐𝙋 𝙞𝙣 𝘼𝙢𝙨𝙩𝙚𝙧𝙙𝙖𝙢, een tijdelijk woon-werkcomplex voor kunstenaars en creatieven dat binnenkort moet sluiten. Na afloop van de screening gaan we met een panel én samen met jou over het thema in gesprek.
Programma
19:30 deuren open
20:00 korte introductie en screening V*KTV #3: STUDIO
20:45 panelgesprek met Wilma Vissers (beeldend kunstenaar en actief lid van de Kunstenbond), Claire van der Mee (beeldend kunstenaar) Janne Schipper (beeldend kunstenaar, ANNASTATE) en moderator Peter van den Bunder (belangenbehartiger beeldende Kunst bij de Kunstenbond). Het panelgesprek is in het Engels of tweetalig (NL-ENG).
21:30 borrel
---------------------------------------------------------
V*KTV is a new web series about pressing issues in the visual arts: issues that matter, but are discussed too little. In order to stay afloat, visual artists have to juggle many activities at once: not only do they create, they also have to secure income for themselves, make sure their works are seen and find and maintain a place to work. But how are you supposed to do all this? How do you make a living as an artist, and at the same time make sure you can continue to develop artistically?
Episode 3 of V*KTV is about the artist's studio. The availability of adequate workspaces is an ongoing problem issue. How do you deal with that as an individual, and how can we come together as a community to improve the situation? In V*KTV #3: STUDIO, several artists are interviewed about their unique situation and views on the issues surrounding studios. On February 14, we will screen the episode at Broedplaats SUP in Amsterdam, which is one example of many temporary "broedplaatsen" for artists that now have to close. After the screening, there will be room for discussion with a panel and any attendees that wish to chime in.
Program
19:30 doors
20:00 short introduction and screening of V*KTV #3: STUDIO
20:45 panel discussion with Wilma Vissers (visual artist, active member of Kunstenbond) Claire van der Mee (visual artist) and Janne Schipper (visual artist, ANNASTATE). Moderation by Peter van den Bunder (union organizer, Kunstenbond)
21:30 drinks
Over de organisator
De Kunstenbond is in Nederland de enige vakbond voor alle creatieve zzp'ers en werknemers. In de creatieve sector wordt veel geld verdiend. Helaas komt maar weining geld bij de makers zelf terecht. Dat moet anders. De Kunstenbond maakt zich hard voor een eerlijk inkomen en een sterke positie voor alle creatieven.
We verbinden mensen, vakgebieden, pakken overkoepelende thema's op die anderen laten liggen en laten hierbij een onafhankelijk, authentiek geluid horen. We werken hard om de waarde van creativiteit voor de maatschappij duidelijk te maken en om die waarde voor de makers ook te vertalen naar een goed inkomen.