Evenementdetails
Locatie
The Hague Tech
Anna van Hannoverstraat 4
2595 BJ Den Haag
Netherlands
Beschrijving van het evenement
We will connect to Barcelona from The Netherlands with a special hybrid Connected Impact and 5G Innovation NL Hub Program at The Hague Tech
Over dit evenement
On Monday June 28 we will connect to Barcelona from The Netherlands with a special hybrid Connected Impact NL Hub from The Hague Tech and offer a special Connected Impact and NL 5G Innovation Program. For all those who cannot make it to Barcelona but want to connect to the NL MWC program from the Netherlands (hybrid).
The program will be moderated by Tine van Heerikhuize, Blink2blinked.
​09:30 hours Walk-in at local MWC21 NL Hub at The Hague Tech in NL
​10:00 – 10:20 SDG Status in The Netherlands on its way to 2030
Sandra Pellegrom, SDG Coordinator The Netherlands
10:20 - 10:40 How IT en Industry, Public en Private buyers can contribute to the achievement of the Green Sustainability Goals
Joost de Kluijver, Director Closing the Loop
​10:40 - 11:00 Results of the IoT Pilot "Social Distancing" / "Covid-free Zone" of the city of Amsterdam at university Inholland en retail store De Bijenkorf
Ger Baron (CTO Municipality of Amsterdam)
11:00 - 11:20 How to make delivery of "Smart & Sustainable" of SDG's of Cities & Communities measurable and visible
Olaf Müller, Benelux Ambassador U4SSC programma ITU (International Telecom Union)
11:20 – 11:40 The Charging Station as new "Smart City" part of the energy transition and Mobility
Rene van de Kracht, Director Awesems Netherlands B.V.
12.00 - 13.00 Walk-in Afternoon Session
In the afternoon more attention for the technology behind the impact and how to organise
13.00- 13:25 Opening session of NL HUB with NL MWC Barcelona
Social XR Demo with TNO, Topsector ICT and Sandra Pellegrom, Coordinator SDG The Netherlands
13:25 – 13:45 5G Innovation approach Do IoT Fieldlab
Lenneke De Voogd, Manager Do IoT Fieldlab TU-DelftGrisjo Koers, Smart & Digital Society Provincie Zuid-Holland
13:45 – 14:15 NL 5G hubs update
In the Netherlands there are several 5G hubs actief: 5Groningen, 5G Hub Eindhoven, JC Arena in Amsterdam and the Do IoT Fieldlab in Delft. This session will provide an up-to-date NL overview
14.40 - 15.00 Overview of 5G development and deployment in the Netherlands
Rene Vroom, Head of Innovation at Agentschap Telecom
15:00 - 15:30 MWC21 highlights overview - Team NL from Barcelona
From Barcelona a snapshot overview will be given of the main items at MWC21 by the NL Team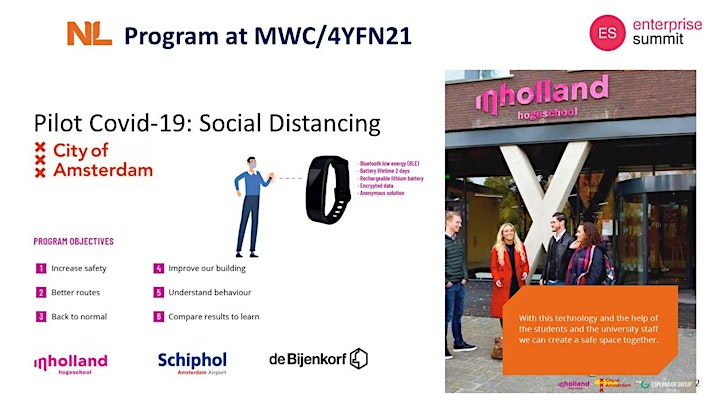 Datum en tijd
Locatie
The Hague Tech
Anna van Hannoverstraat 4
2595 BJ Den Haag
Netherlands