Dit evenement is afgelopen.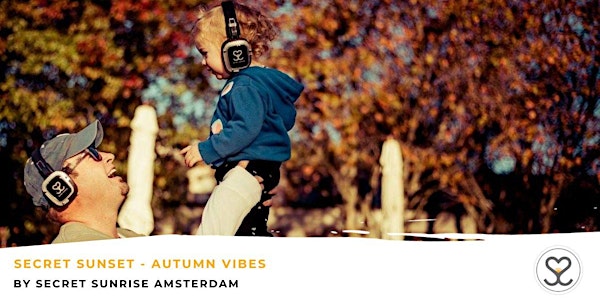 Secret Sunset - Autumn Vibes
This is your wake up call to dance until your branches have shed all leaves you don't need anymore.
Waar en wanneer
Locatie
Secret location in Amsterdam TBD 1011 Amsterdam Netherlands
Kaart en routebeschrijving
Beleid voor refunds
Geen refunds
Over dit evenement
'Autumn shows us how beautiful it is to let things go.'
This is your wake up call to spread out your branches and drop your leaves to let go of anything you don't need anymore. We are ready to jump in puddles with you, release and celebrate the beautiful colours of autumn during this dance!
Come join us for our first public session after summer, put on your most funky outfit and share the joy!
Secret Sunrise is a guided dance workout with wireless headphones, which celebrates the sun. Get ready for some epic moving and grooving, connecting with nature, oneself and others around us! Let's go together on this journey and share the joy ♥
▬▬▬▬▬▬▬▬▬▬▬▬▬ Details ▬▬▬▬▬▬▬▬▬▬▬▬▬
☀ Time | 18-19pm (collect headphones 15 min. before start)
☀ Location | Overpark (Next to the Eye Film Museum)
☀ For whom | All ages - #sharethejoy
☀ What to bring | Autumn colours, tickets & water
☀ Tickets | €7.5 (kids) | € 8 (early) | € 10 (general) | €30 (group discount of 4)
*Tickets are available and sold online
▬▬▬▬▬▬▬▬▬▬▬▬▬ Note ▬▬▬▬▬▬▬▬▬▬▬▬▬
Regarding COVID-19; We will be compliant to the rules and regulations from the government, meaning no physical contact and keeping 1.5m distance. Secret Sunrise Amsterdam will provide hand sanitiser at the start and end of the dance and will make sure that the headphones are sterile. We ask you to take responsibility and follow the instructions given by the facilitators during the event.
Contact us at amsterdam@secretsunrise.com if you have any questions or troubles buying your ticket online!
▬▬▬▬▬▬▬▬▬▬▬▬▬ T's & C's ▬▬▬▬▬▬▬▬▬▬▬▬▬
Disclaimer: Secret Sunrise will not be held liable for any loss, theft or damage to personal property or self. Please be advised that photographs will be taken at the event for use on the Secret Sunrise website & marketing materials. By entering this event, you consent to the Secret Sunrise photographing and using your image and likeness. Tickets are non-refundable.
Come get groovy with us and #ShareTheJoy ♥