Dit evenement is afgelopen.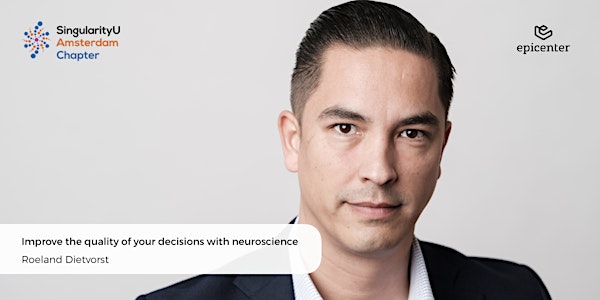 SingularityU Amsterdam Lunch-talk: 'Improve your decisions with neuroscience' by Roeland Dietvorst
Waar en wanneer
Locatie
Epicenter Amsterdam 115 Fred. Roeskestraat 1076 EE Amsterdam Netherlands
Kaart en routebeschrijving
Beschrijving
SingularityU Chapter Amsterdam in cooperation with Epicenter Amsterdam invites you to the inspiring lunch-talk "Improve the quality of your decisions with neuroscience" by Roeland Dietvorst on Thursday August 8.
At the interface of neuroscience and AI arise many philosophical questions; will we be able to record our dreams with brain scanners or upload our consciousness in a machine? Roeland is an experienced and energetic keynote speaker. During Roeland's talk you will learn how neuroscience and technology provide a new perspective on who we are and where we are heading. You will understand how you can use insights from brain science to improve the quality and precision of your decisions. You will better understand what it takes to change behaviour.

Understand the neural mechanisms underlying decision making.

When do you rely on conscious, deliberate thought versus subconscious, reflexive information processing.

Learn to recognize structural thinking errors.

Leverage the benefits of human versus Artificial Intelligence.
Bio: Dr. Roeland Dietvorst has a background in biological and cognitive psychology and obtained a PhD in neuroscience. He is founder and responsible for research & development at Alpha.One, a neuroscience research and strategy firm. Roeland uses insights and techniques adopted from neuroscience to better understand how we reconstruct reality inside our minds and how this process influences our day-to-day decision-making. In addition, he and the team at Alpha.One are applying Artificial Intelligence and deep learning in particular, to read the mind from neuroimaging data and build models that simulate human responses such as visual attention. Roeland works for the government and international brands such as Uber, IKEA, and TomTom to help them understand how people derive value from communication and value propositions. His central focus is on how the brain processes information and how this leads to value perception and behavior change.
After the talk there will be an short Q&A with Roeland and of course time for meeting the other SingularityU Amsterdam and Epicenter community members over some available lunch bites.
This event is hosted by Epicenter Amsterdam (Fred. Roeskestraat 115) and will be held at their Cuddle Puddle on the ground floor. You are welcome at 11:45 am and the talk starts at 12:00 pm sharp. So make sure you have secured your seat by then.
Hope to see you there!
Peter Maarten, Alix, Maayke, Jordy.
SingularityU Chapter Amsterdam