Dit evenement is afgelopen.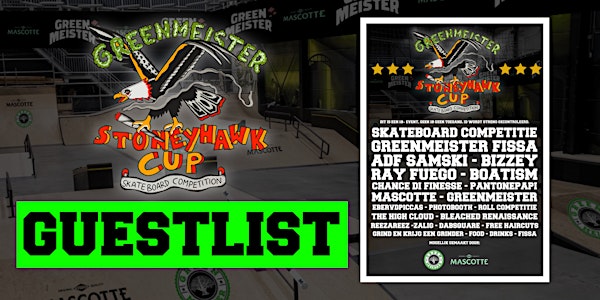 Stoney Hawk Cup + Greenmeister Fissa
Greenmeister presents the 'Stoney Hawk Cup'. The greatest stoner party of the century where you can watch skaters skate and smokers smoke.
Waar en wanneer
Locatie
De Skate Centrale 10 Middelhoefseweg 3819 AA Amersfoort Netherlands
Kaart en routebeschrijving
Over dit evenement
Watch pro skaters fight for the Stoney Hawk Cup while you hangout with good people having a good time with good food. We fix the rest. Think photo's, free haircuts, free goodies! We got you!
This event is sponsored by Greenmeister and Mascotte. Together we celebrate the launch of the new Greenmeister version.
Follow @greenmeister_nl on Instagram for updates on the event