Dit evenement is afgelopen.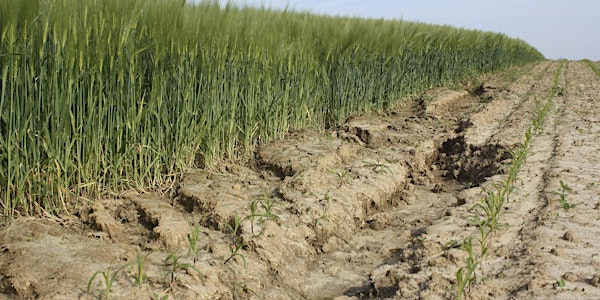 Symposium on Soil Erosion: Connecting Science, Policy and Practice
Symposium on Soil Erosion: Connecting Science, Policy and Practice
Waar en wanneer
Locatie
VAC Leuven (Dirk Boutsgebouw) Diestsepoort 6 3000 Leuven Belgium
Kaart en routebeschrijving
Over dit evenement
The government of Flanders is pleased to invite you to the international Symposium on Soil Erosion: Connecting Science, Policy and Practice.
On 5 and 6 December 2019, one of the major causes of declining soil and water quality within Europe will be tackled in three thematic sessions. The symposium aims to close the gaps between science, policy and practice, thus contributing to a more sustainable land use and the adaptation to climate change. The audience targeted are policy-makers, researchers and stakeholders.
After the international sessions, a session in Dutch on Friday afternoon will focus on the current soil erosion policy in Flanders and the latest developments, insights and experiences.
The symposium is free of charge but registration is mandatory.
PROGRAMME :Thursday 5 December
9:00 Welcome and registration
9:45 Opening
Session 1: Assessing soil erosion: where, how much and what about the future?
10:00 Mapping and monitoring soil erosion at EU and international level
Panos Panagos (JRC, European Commission)
10:45 Different approaches to assess soil erosion
- Sediment connectivity at multiple scale
Olivier Cerdan (BRGM, France)
- Filling the gap between plot and landscape scale – what do we learn from long-term erosion monitoring in 14 small adjacent watersheds under soil conservation
Peter Fiener (Universität Augsburg, Germany)
- Using fallout radionuclides and multiple tracers to quantify the sources and the dynamics of sediment in river catchments
Olivier Evrard (Université Paris-Saclay, France)
- Climate Impacts on soil erosion & muddy flooding at 1.5°C vs 2°C Warming
Donal Mullan (Queen's University Belfast, UK)
13:15 Lunch
Session 2: Can policy protect the soil against erosion?
14:15 Relationship between CAP and erosion and the state-of-play of the new CAP negotiations
Olivier Maes (DG Environment, European Commission)
15:00 Erosion policies at country and regional level
- Soil erosion policy in Switzerland
Ruedi Stähli (Federal Office for the Environment, Switzerland)
- Approach on water nuisance and soil erosion in the South of Limburg (Netherlands): policy and practice
Harrie Winteraeken (Waterschap Limburg, Netherlands)
- Erosion policy and the use of erosion maps in Flanders
Martien Swerts (Departement Omgeving, Belgium)
17:00 Closing remarks
17:15 Reception
PROGRAMME: Friday 6 December
8:30 Welcome and registration
9:00 Opening
Session 3: State of play in erosion control measures. Special session on the occasion of the emeritus status of prof Jean Poesen
9:15 Soil erosion in the Anthropocene: research needs
Jean Poesen (KULeuven, Belgium)
10:00 Efficiency of erosion control measures
- Overview of the effectiveness and applicability of on-site erosion control measures in Flanders (Belgium)
Greet Ruysschaert (ILVO, Belgium)
- Experience with erosion control in Wallonia (Service Public de Wallonie, Belgium)
TBC
- Challenges for the control of erosion and muddy floods in England
John Boardman (University of Oxford, UK)
12:00 Closing remarks
12:15 Lunch
Sessie 4: Geïntegreerde aanpak van erosie in Vlaanderen
13:15 Opening
13:30 Erosiebeleid in Vlaanderen
- Erosiebestrijding in het gemeenschappelijk landbouwbeleid
Maayke Keymeulen (Departement Landbouw & Visserij)
- Gebiedsgerichte erosiebestrijding met de instrumenten beheerovereenkomsten en landinrichting
Liesbeth Gellinck (VLM) & Olga Jongeneelen (VLM)
- Het Erosiebesluit als stimulans voor een gemeentelijke aanpak van modderoverlast
Jan Vermang & Liesbeth Vandekerckhove (Departement Omgeving)
15:15 Erosiebestrijding in de praktijk: ontwikkelingen, inzichten en ervaringen
- Sedimentbeheer anno 2020: blijven we ruimen met de kraan open?
Nele Van Ransbeeck (VMM) & Petra Deproost (Departement Omgeving)
- Gingelom: de strijd tegen water en modder
Dirk Schalenborgh (gemeente Gingelom)
- Moddervrij bouwen en wonen
Karel Vandaele (Watering van Sint-Truiden) & Katleen Gillijns (Provincie Vlaams-Brabant)
16:30 Slotwoord