Dit evenement is afgelopen.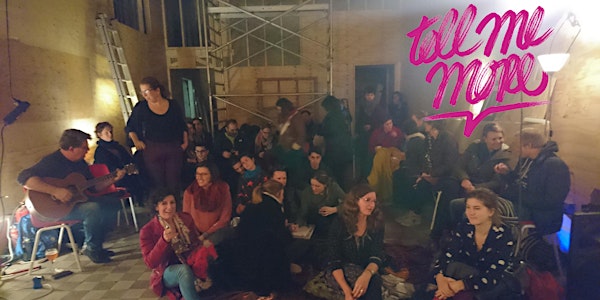 Tell me more - Romantic Love
Waar en wanneer
Locatie
Theater de Generator 36 Middelstegracht 2312 TX Leiden Netherlands
Kaart en routebeschrijving
Beleid voor refunds
Neem contact op met de organisator om een restitutie aan te vragen.
Beschrijving
Welcome back at TELL ME MORE in 2019. Where Theater de Generator continues with the STORYTELLING EVENINGS of stories you´ve never heard before. Stories that will make you smile, stories that will make you cringe, stories that one way or the other will touch you and make you think.
The TELL ME MORE storytelling evening on February 15 is about "Romantic love". Pure love, forbidden love, lost love, difficult love, you name it. We have all been there, at one point in our lives.
Come and listen to professional storytellers, newbe storytellers, musicians and more. Welcome to TELL ME MORE where true listening is the key. To be as inclusive as possible, the evenings will be fully in English.
Line up storytellers: Marijn Vissers, Gerard Jellema, Kathleen van der Weerd, Ellen Maassen, Ojas Canela.
The host of the evening is Oriana van der Sande, organizer of the evening.
There will be music and even more stories. Personal stories, true stories, stories with meaning, tales. Make yourself comfortable and get into this new world of stories.
(Dutch)
Welkom bij TELL ME MORE in 2019! Waar Theater de Generator door gaat met de STORYTELLING AVONDEN met verhalen die je nog nooit eerder hebt gehoord. Verhalen die je doen glimlachen, verhalen die je in de war laten raken, verhalen die je op de een of andere manier raken en je aan het denken zetten.
De verhalenavond VERTEL ME MEER op 15 februari gaat over 'Romantische liefde'. Echte liefde, verboden liefde, verloren liefde, moeilijke liefde, noem maar op. We zijn er allemaal zo geweest, op een bepaald moment in ons leven.
Kom luisteren naar professionele vertellers, nieuwe verhalenvertellers, muzikanten en meer. Welkom bij TELL ME MORE waar echt luisteren de sleutel is. Om zo inclusief mogelijk te zijn, zijn de avonden volledig in het Engels.
Storytellers: Marijn Vissers, Gerard Jellema, Kathleen van der Weerd, Ellen Maassen, Ojas Canela.
De host en organisator van de avond is Oriana van der Sande.
Met muziek en nog meer verhalen. Persoonlijk, waargebeurd, verhalen met een betekenis en sprookjes. Ga lekker zitten en laat je mee voeren in deze nieuwe verhalenwereld.