Dit evenement is afgelopen.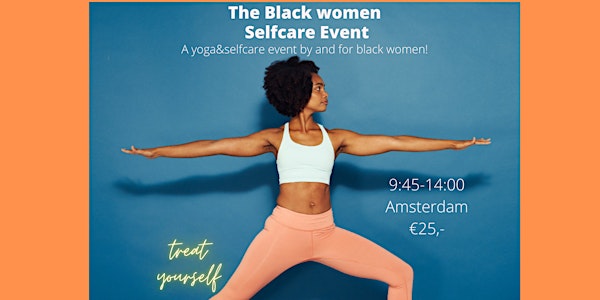 The Black Women Yoga-Selfcare Event
Black women this yoga/selfcare event is created especially for you! Join us for an afternoon full of yoga, selfcare, and community!
Waar en wanneer
Locatie
Backershagen 12 12 Backershagen 1082 GT Amsterdam Netherlands
Kaart en routebeschrijving
Beleid voor refunds
Geen refunds
Over dit evenement
Empowering Black women through yoga, mindfulness, and self-care.
Dear Black woman, this yoga/selfcare event is created especially for you!
Take this time to take care of yourself, allow yourself to rest, recharge and rejuvenate.
Yoga, meditation and selfcare are a great way of looking after yourself, reducing stress and creating a calm relaxed state of mind.
Give these few hours as a gift to yourself.
The program (10.00-13.00):
Selfcare assignment
Facial (self)massage
Meditation/Breathwork session
Yoga session 1 hour
This session is for all levels, newbies and avid practitioners of yoga, the teacher will adjust each move. It is for those black women who want to experience how yoga can be in a safe space, curated just for you full of inclusion and community.
Benefits of Yoga, Mindfulness and this event:
- Helps you manage stress.
- Yoga can help with more energy and brighter moods.
- Yoga improves strength, balance and flexibility.
- Helps you to know peace in your body, mind and in spirit.
Why these events?
As an avid yoga practitioner, I noticed quite a grave lack of diversity in the yoga lessons that I attended. Yoga has so many benefits and can be so helpful in many ways that it should be accessible for everybody!
I want to create the possibility and space for other black women to experience what yoga and practicing selfcare can do for you.
Practicing together with others in a space for us by us is an absolute magical thing.
I believe that everyone deserves access to wellness, and that healing and selfcare especially for black women are important!
The Vision:
A space where black women can grow, practice, learn Yoga + Mindfulness and selfcare in a community setting. We are focusing on improving the wellness of Black women and aim to support black women reaching for healing in every way possible!
Ticket price: 25 euro (excl. ticket fees)
Sunday 13th of November 09.45-13.00 , Backershagen 12, 1082 BA Amsterdam
Dutch and English speakers welcome :)
Next sessions: 4th december
** All tickets are non refundable! Please be on time :)
** This event is packed full of gems! Take advantage of this introduction price now, The price will be raised to match what is offered in the event coming 2023. Hope to see you soon
***After the event you will be added to the Black women selfcare tribe for more support and loveliness!