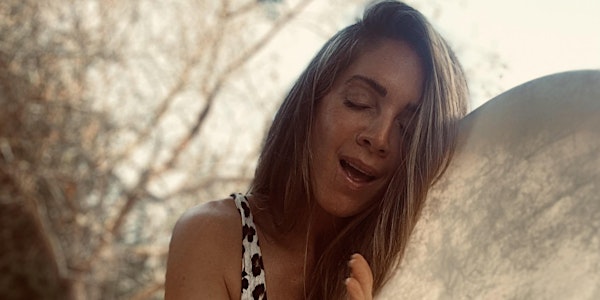 The Power of Sound - 6 Week Sound Journey in beautiful Amsterdam location
Evenementdetails
Locatie
Roots & Wings
197 Van Ostadestraat
1073 TM Amsterdam
Netherlands
Restitutiebeleid
Neem contact op met de organisator om een restitutie aan te vragen.
Eventbrite-kosten zijn niet restitueerbaar.
Beschrijving van het evenement
The Power of Sound. In this 6 week journey we will use sound ,combined with breath and movement to access altered states of consciousness.
Over dit evenement
Sound is the harmonic pattern which is heard not only through our ears, but through every cell in our bodies; a vibrationthat can touch the soul of every individual. 
avibrationIn this 6 week journey we will use sound to access altered states of consciousness and from this state we can sometimes view life (and life's problems) from a detached perspective that is not easily achieved from a state of ordinary, conditioned awareness. Sound and music are one of the most powerful tools in influencing our emotional state, and the vibrations of sound can be very healing. Certain frequencies can help remove  energetic blockages and restore balance in our bodies whilst also inducing  blissful states, deep relaxation, eurphoria and increased serotonin levels. Over the course of the journey you will not only have the opportunity to experiment with playing a range of different instruments to see which best resonates with you, but we will also combine sound with breathwork, voice and movement ,to connect to our body, inner knowing and higher consciousness. It from this place that we an tap into that Harmonious Vibrational Memory - The Magnetic Energy Field - The Aura around our bodies and from this place we might even begin to hear the voice of the soul singing to us and guiding us, teaching us through many layers of vibrational expression.
Week 1: Opening circle with cacao ceremony sound bath 
Week 2:Handpan workshop with guest teacher 
Week 3:Breathwork with sound & drumming
Week 4:Voice release workshop 
Week 5:Micro-dosing with psilocybin and ecstatic movement/dance with live DJ set.
On Sunday 6th Feb there is an additional 'Shamanic drum making workshop' from 10am-5pm bookable separately for an additional cost. This can also be found under the 'workshop' section on this website. Creating a Healing Shaman Drum yourself in the course of one day is a wonderful experience. Working in multiple levels, both in the appearance of the drum and through the deeper level of Spirit. You will be guided through the whole process from choosing the right materials to teaching you how to make a beautiful sounding drum- perfect and unique for you
Every step is created with ceremony and intentions. Every part of your drum is also a part of you.
Week 6: Drumming circle - drums supplied - or the opportunity to use your new drum if you chose to make oneat the additional workshop.
Locatie
Roots & Wings
197 Van Ostadestraat
1073 TM Amsterdam
Netherlands
Restitutiebeleid
Neem contact op met de organisator om een restitutie aan te vragen.
Eventbrite-kosten zijn niet restitueerbaar.