Evenementdetails
Locatie
StartDock (Keizersgracht)
Keizersgracht 482
1017 EG Amsterdam
Netherlands
Restitutiebeleid
Restituties tot 1 dag voor evenement
Eventbrite-kosten zijn niet restitueerbaar.
Beschrijving van het evenement
Beschrijving
The Roadmap to Confident & Consistent Visibility
When you are your product or the face of your company, it's important to weave your personality into your business brand. Even though we have competitors and people who do exactly the same thing, we need to include our specific perspective on the world and strategically show our authentic self to our audience. Following other people's blueprints on being visible with your business is a mission impossible, as we are all unique in our approaches and personalities.
Too many entrepreneurs:
Don't know what online platform or offline networking clubs are best for them

Are afraid to show their true selves because they want to fit in

Feel overwhelmed by all the options

Want to be visible, but not at any cost
In Nicoline's talk, we'll cover:
The basic elements you need in order to stand out from your competitors

How to make your message stick with your audience

How you can be strategically authentic without the feeling of having to share everything

How to work your confidence muscle on a daily basis

What types of content will help you to boost your visibility

How to choose the best online & offline platform for you to thrive on
Business Breakfast BONUS:
Nicoline will share her swipe file for sticky content creation AND for attending this event you automatically receive a €20,- discount for Nicoline's Workshop "How to Use Storytelling to Boost Your Visibility" which takes place on October 31st.
Who is this for:
This is best for business owners and entrepreneurs who want to get more confidence and consistency in being visible in their own, authentic way to get seen as an expert in their field, who want more higher-paying clients and better visibility, without feeling uncomfortable doing so.
About Nicoline Huizinga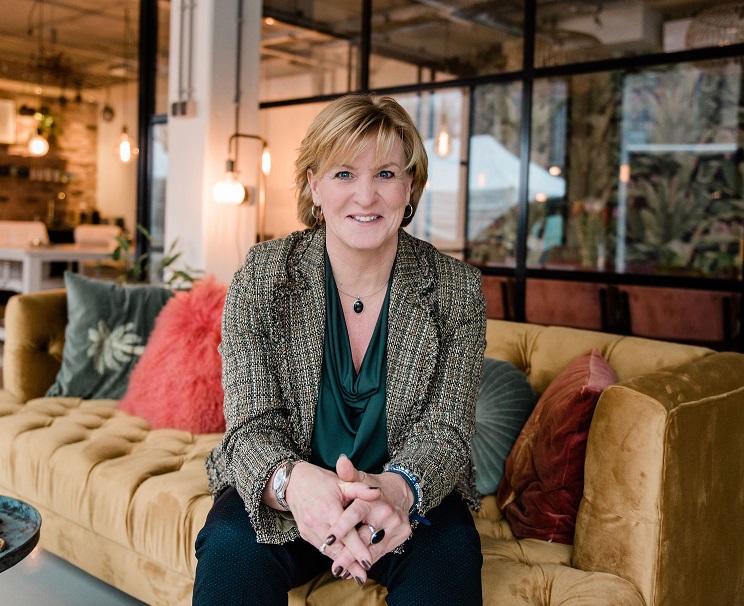 Nicoline Huizinga is a Dutch certified, self-employed confidence and visibility strategist, coach, speaker, and author of the book 'Flick the F*ck It Switch'.
She helps solopreneurs to be visible on relevant platforms for them to land great client contracts. Nicoline's services include coaching and training for groups and in 1:1 program for service providers to increase their authority with confidence, to sell to ideal clients with ease and to increase turnover as a result. Nicoline's clients are located all over the world, as she is fluent in 4 languages. She is married, a humorous mom to a 15-year old son, a foodie and a human behavior connoisseur.
For more information about Nicoline, visit www.nicolinehuizinga.com, or follow her on social media:
https://www.instagram.com/nicoline_huizinga/
https://www.facebook.com/thetimetobevisibleisnow/
https://www.linkedin.com/in/nicolinehuizinga/
https://www.youtube.com/channel/UCRTS_w1wWjhm3VcNVQYh1bQ
Venue
This event will be at StartDock's newest coworking venue on the Keizersgracht. Everything is luxurious in this old German Bank building, in the heart of Amsterdam. Walk on the marble floors, touch the golden walls, and stare at the shiny chandeliers.
Keizersgracht 482
1017 EG Amsterdam
Tickets
Tickets are € 15 (excluding VAT) and you can buy them up until midnight the day before the event.
A varied breakfast buffet will be served including coffee, tea and orange juice.
J oin us for breakfast and learn your business to the next level! We also suggest you have great questions.
Kind regards,
The Business Breakfast Team
Datum en tijd
Locatie
StartDock (Keizersgracht)
Keizersgracht 482
1017 EG Amsterdam
Netherlands
Restitutiebeleid
Restituties tot 1 dag voor evenement
Eventbrite-kosten zijn niet restitueerbaar.
Organisator van The Roadmap to Confident & Consistent Visibility (Amsterdam)
Amsterdam Business Breakfast is a monthly, English-spoken, community-driven business development platform for entrepreneurs with presentations, workshops, and unique content provided by experts.


Our events are a means to connect local entrepreneurs, be inspired by unique guest speakers, and to grow your network. These events take place in the morning so they don't break up your day or take up too much of your personal time.
 
Each month's presentations take place in the beautiful classic Amsterdam building of StartDock on Keizergracht from 8.30-10.30 AM. All morning workshops start at 9.00 AM.


Since March 2020 we also offer online events via Zoom. To register for our online events, visit our Amsterdam Business Breakfast Eventbrite profile: 
https://bit.ly/2YVqTd3. 


Business Breakfasts Online
The Business Breakfasts Online Community is an extension of its offline events and facilitates more networking, community building and learning. It is on every device – native iOS, Android, and web – where community members can find all events (offline and online), discussion forums, member profiles and chat functions, and to our Premium Membership.
Our Premium Membership is an add-on to the Business Breakfasts Online Community and offers exclusive access to monthly unique content (like mini lessons) from the Business Breakfasts Experts. This content ranges from Marketing to Business Strategy and more. You also gain access to exclusive content including ongoing Q&A and "Leads & Needs" forums, all presentations and networking events free, up to 50% discounts on workshops, Masterminds, collaboration events, and past event recordings. 


You're invited to try our Premium Membership for two weeks whenever you like! Please visit https://bit.ly/2L7uCh0. You will need to register your name and email address first and you can de-register whenever you like, no strings attached! 


If you have any questions about Business Breakfasts, please contact Lara at Lara@larawilkens.com.
To receive our newsletter, visit www.businessbreakfasts.nl (full website coming soon!) and select your preferred location. To see all previous and upcoming events, please visit: www.larawilkens.com/business-breakfasts. 


Looking forward to meeting you! 


Lara Wilkens - Founder of Business Breakfasts