Dit evenement is afgelopen.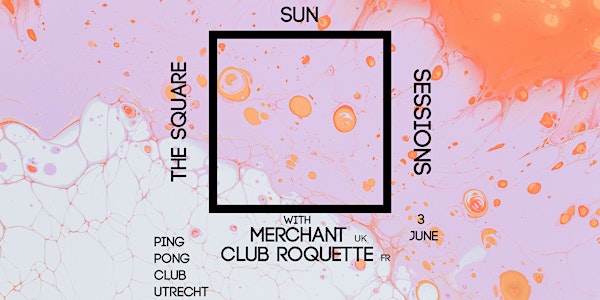 The Square Sun Sessions With Merchant & Club Roquette
Third of June is the very first The Square Sun Sessions party! With two very special international selectors! Definitely our favorites!
Waar en wanneer
Locatie
De Ping Pong Club 80 Concordiastraat 3551 EM Utrecht Netherlands
Kaart en routebeschrijving
Over dit evenement
MERCHANT(UK)
The "Merchant" duo of Harry and Al are inbound from London for their first gig in Utrecht. Brought together at university by shared taste in music, both of them have been amassing records together ever since.
With a new residency on @balamii radio, respected guest mixes on some of Europe's best stations, and edits played by our favourite dj's on international stages, the Merchant name is beginning to make waves. You can find them swimming at one of London's finest underground parties in Dalston every few months! Inviting friends and up and coming selectors to play with them all night long. We can't wait to see what they bring to Utrecht.
CLUB ROQUETTE (FR)
Club Roquette is a Paris-based crew of three that formed in 2019 to play around the City of Light, especially at the fairly new venue Le Mazette where they are residents at and where they shared the decks with DJs such as Red Greg, Barbara Boeing or Millos Kaiser.
With their music selections they always attempt to put together different genres and grooves from different times and part of the world!