Dit evenement is afgelopen.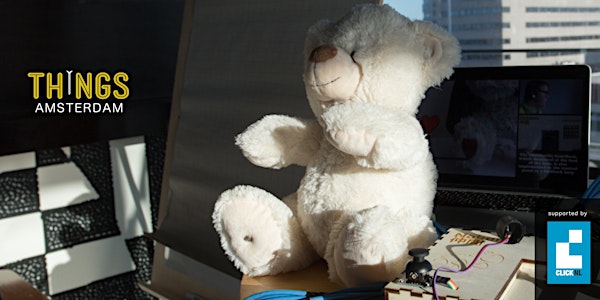 Thingscon AMS Salon #1: Internet of Touch
Waar en wanneer
Locatie
Info.nl 16 Sint Antoniesbreestraat 1011 HB Amsterdam Netherlands
Kaart en routebeschrijving
Beleid voor refunds
Neem contact op met de organisator om een restitutie aan te vragen.
Beschrijving
After a very successful edition of Thingscon Amsterdam last December. ,we, the organising team, had the idea not to wait until December 2016 to have another get-together with our 'new things-enthusiasts'. Also we heard a lot of attendees share the pity of only be able to do one of the workshops. That inspired us to plan the Thingscon Salons.
The Thingscon Salon is a monthly meetup organised by the Thingscon Amsterdam team in collaboration with different partners. How does the Salon looks like:
we offer 30 people to join one of the 2 hour workshops, 15.00 - 17.00 hours

after that we have drinks with everyone that like to be part of the -hopefully- growing community, 17.00 - 21.00.

we invite one speaker to kick-off the drinks (17.30)

the Salons are themed around the topic of the workshop

we intend to let the Salons travel thru the Netherlands and maybe even abroad
Salon #1: The internet of touch
We will start the series Friday April 1 in Amsterdam around the haptics theme. The workshop will be lead by Gijs Huisman, Aduen Darriba Frederiks and Iskander Smit and have a similar setup as at Thingscon Amsterdam with of course an update of the latest insights.
We ask every attendee of the workshop a small contribution of 20 euros. You can register already here.
During the drinks after we have invited VanBerlo to share the learnings on haptic interactions. Please RSVP also for this because the space have limitations for the number of attendees.
The workshop
A wealth of interconnected devices is penetrating our daily lives at an increasing rate. While many of these devices communicate with us through visual and auditory information, a new wave of second skin connected devices, like smart watches, unlocks a new interaction paradigm: touch.
Our sense of touch is a complex sense capable of detailed information processing, for example, the various vibration notifications received through wearables. However, touch can also be a rich source of affect, and emotional experiences. Some of the most emotion-laden experiences in our lives involve touch: the soothing feeling of a warm bath, the desirable feel of an excuisite dress, a relaxing massage, or a hug from a loved one.
Tapping into the affective aspects of our sense of touch could provide a whole new way for interacting with technology. Exactly how this should be achieved is still an open question. The social nature of touch offers one possibility: can we somehow emulate the intense feeling of a human touch through technology? And if so, how should such a touch feel, and how should it make us feel?
The workshop will be hosted by three Gijs Huisman, Aduen Darriba Frederiks and Iskander Smit.
Gijs Huisman 
is PhD at the Human Media Interaction group at the University of Twente. His 
PhD work focuses on mediated Social Touch Technology. He will share the insights from research how touch works and can be mediated.
Aduén Darriba Frederiks
 works as researcher at Digital Life group at Amsterdam University of Applied Sciences. His research focuses on 
fashion and technology: smart garments. Together with Gijs he created TaSST the haptic sleeve for the internet of touch.
Iskander Smit works at Info.nl where he is innovation director and responsible for Labs, the innovation lab that researches and experiments near and next future developments. He shares how haptics can be a design material in connected products and services.
Check the report on the workshop on the Thingscon Amsterdam website.
The talk
VanBerlo is one of the largest independent multidisciplinary design Agencies in the Netherlands, employing over 80 professionals working on various projects for start-ups and corporates. VanBerlo has roots in product design and development but has branched out in front-end disciplines like strategy, insights and UX.
As UX Design director Koen van Niekerk leads a team of VanBerlo UX designers in projects varying from Car Dashboards, App-development, Embedded Interfaces and Wearables... Before leading the VanBerlo UX team Koen worked as a product and interaction designer on projects for clients like Maxi-Cosi, Douwe-Egberts, Philips, Saeco and Atag.
Koen will share the experiences of VanBerlo in development of haptic interfaces like the Kiiroo and Frebble.
Location
For the first Salon we go back to the location where Thingscon Amsterdam started in 2014: the office building of Info.nl near the Nieuwmarkt.
We hope to see many of you at this new event!
Thingscon Salon is supported by CLICKNL