Dit evenement is afgelopen.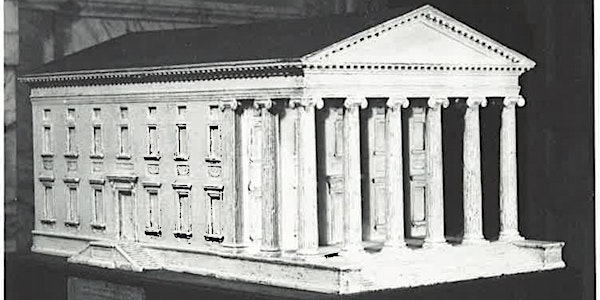 Thursday Night Live! Architecture and Race in Jefferson's America
Waar en wanneer
Locatie
Het Nieuwe Instituut 25 Museumpark 3015 CB Rotterdam Netherlands
Kaart en routebeschrijving
Beleid voor refunds
Neem contact op met de organisator om een restitutie aan te vragen.
Beschrijving
Reading Room
Notes on a Virginia State: Architecture and Race in Jefferson's America
Professor Mabel Wilson takes a model of the Virginia State Capitol and Thomas Jefferson's book Notes of the State of Virginia as the starting points for an analysis of how an emerging sense of a national architecture for and in the new United States was racialized as white and Euro-American.
American statesman, plantation owner and architect Thomas Jefferson's Notes on the State of Virginia (1785) and his initial designs for the Virginia State Capitol in Richmond imagined a new social order and government for Virginia based on principles of liberty and democracy. But who living within the territory—free whites, Native Americans, and enslaved and free blacks—would enjoy the rights and freedoms of citizenship? Notes on a Virginia State: Architecture and Race in Jefferson's America explores the dialectic between slavery and liberty, informed by the racial paradigm of human difference. It also examines how this influenced Jefferson's representations of citizenship and government, as well as the aesthetics and style of the state capitol's architecture. Jefferson's ruminations about his home state during the Revolutionary and post-Revolutionary periods would also serve as a model for national citizenship and the future architecture of Washington, D.C.
A first response will be provided by Azadeh Mashayekhi, PhD candidate at TU Delft who researches political and institutional dynamics of urban development, planning and architecture. The event will be moderated by Marina Otero Verzier (Het Nieuwe Instituut).
This lecture is part of the Rotterdam Architecture Month 2017.

Thursday Bite
Before the Thursday Night why not grab a bite to eat with the speakers and staff of Het Nieuwe Instituut? At 18.30 Het Nieuwe Café will serve soup with bread or a quiche with salad. Dinner vouchers are available for €7.50 up to a day before the particular Thursday Night event via the Tickets link or at the bar this evening.
Mabel Wilson
Associate Professor Mabel O. Wilson teaches architectural design and history/theory courses at Columbia GSAPP. She is also a Senior Fellow at the Institute for Research in African American Studies and co-directs Global Africa Lab. Her design and scholarly research investigates space, politics and cultural memory in black America, race and modern architecture, new technologies and the social production of space and visual culture in contemporary art, film and new media. She is currently developing the manuscript Building Race and Nation: How Slavery Influenced Antebellum American Civic Architecture and collaborating on a collection of essays on race and modern architecture.
Reading Room
The Reading Room is a series of evenings dedicated to the act of collective reading. It is a place to decipher and interpret the world with its countless languages and systems, including phenomena that by their ubiquity evade investigation. Led by an artist, researcher or designer, a small audience will reflect upon a concept, a text, an object or an image. The Reading Room is a space for intimate, provocative conversations. It is a place for creative confusion and sometimes even frustration, in which speakers and audience are not looking for concrete solutions but for higher resolutions. Subjects in previous Reading Rooms include exhibition, surveillance, migration, liquidity, museum, insecurity.
Language: English

Image: Virginia State Library and Archives